Highest Quality In Design and Building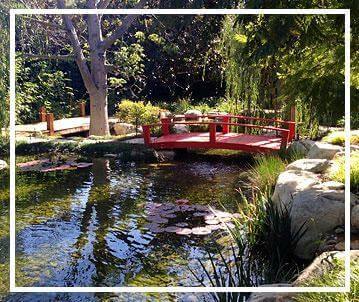 Mystic Water Gardens designs, builds, and maintains water features that include custom-crafted waterfalls, ponds, pondless waterfalls, koi ponds, lakes and streams. These self-sustaining aquascapes combine low maintenance with high enjoyment (not to mention adding considerably to the value of your home or property). Share with your family, friends, employees and colleagues all of the benefits and joys that water features have to offer. From creating your own natural eco-system, to enjoying the soothing sounds while unwinding and relaxing in your own personal tranquil environment, Mystic will create a water feature that you will enjoy for years to come. You'll create a lifetime of wonderful memories while enjoying all of the beauty and benefits mother nature provides us with...right in your own yard or workplace. Paradise is only steps away!
We focus on using LOTs of Color and Beauty in ALL of our Pond and Drought Tolerant Designs and Installations.
Serving customers in Agoura Hills, Alta Dena, Brentwood, Burbank, Camarillo, Chatsworth, Encino, Hidden Hills, La Canada, Porter Ranch, Rancho Palos Verdes, San Marino and Tarzana.
We take great pride in our projects and our client's regularly call us to say how much pleasure they derive out of our creations. We're proud that we are the #1 Certified Aquascape Contractor in the country. Whether you have a small nook where you'd like to tuck in a small pond or a pondlesss waterfall, or you require a large stream or lake, Mystic can take care of all of your needs. Best of all most projects are completed in ONE day! Start relaxing and enjoying all of the beauty and benefits of your custom water feature today!
Below you'll find links and photos of a sampling of our work. Each project is customized and integrates our client's individual needs, lifestyles, design tastes and investments to create the perfect water feature. All of our work is warrantied and backed up by our word. Please call today for an education on the value of water features and an estimate on your project. We'd love to hear from you, so if you have something you'd like to discuss with us please fill out this form and we'll get right back to you. Thanks for your interest in Mystic Water Gardens and welcome to the beautiful and relaxing world of water gardens.
Respectfully,
Steve Sandalis, Owner and Certified Aquascape Contractor
Areas We Service in Southern California: