Newsletter: May 2013
2013 Pasadena Showcase House of Design
has come to a close...
Mystic Water Gardens had so much fun this year!

It was really great to see so many of our customers! Thank you to those who stopped by; it was great to have you be a part of our experience.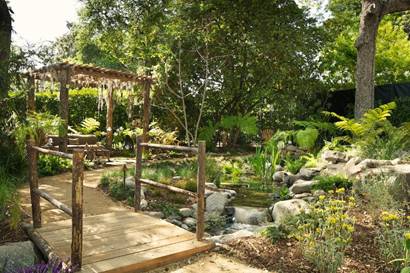 Our sincere gratitude to all that helped make it so special.

Thank you to Shannon Ggem of Ggem Design Co for furnishing and accessorizing our space, the Rustic Retreat!

Many thanks to Family Ayala Upholstery for turning the vintage Barker Brothers sofa into an outdoor Zen zone! The perfect mixture of relaxation and luxury. Everyone loved the Sunbrella fabric!
Cleveland Art's candelabra, vintage Navy ship ladder and Factory cart were especially fun! Thank you so much!

Thank you to all at Summit Furniture for your wonderful teak chairs.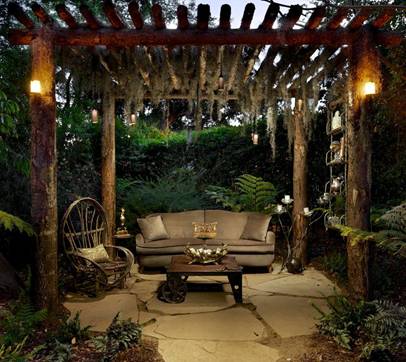 It was truly an honor to be chosen as one of the designers to transform this 1941 Monterey Colonial home.
---
Mystic Water Gardens
Nationally recognized and Award Winning Designer creates one of a kind water features that are 100% eco-friendly.

Steve Sandalis is President & CEO of Mystic Water Gardens. Sandalis has been featured in many national magazines, television shows and is now launching a blog and newsletter to share his passion, advice and tips for everyone who loves the green industry. Sandalis believes that water is the elixir of life. By using custom water features as a basis in many of his landscaping designs, he is able to incorporate the essence and passion that many come to him for. Many of our clients tell us that our water gardens change their lives. Sandalis adds, "Water is an intense attraction to people and satisfies our senses through the sounds that only water can make. Our water features are designed to create a tranquil and comforting environment, providing peace, serenity, and family enjoyment year-round".

ABOUT MYSTIC WATER GARDENS
As seen on Extreme Makeover: Home Edition, Mystic Water Gardens designs, builds, and maintains amazing custom-crafted waterfalls, lakes, ponds and streams. In addition to building award-winning and innovative landscape creations, Mystic Water Gardens water features are designed to be low maintenance and 100% eco-friendly. Located in Southern California, Mystic Water Gardens has designed and constructed custom water gardens, lakes and high end designs for many high profile celebrities.