Newsletter: March 2014
Mystic Water Gardens
2014 Pasadena Showcase House of Design
Mystic Water Gardens is proud to be selected as a designer at the 2014 Pasadena Showcase House of Design.
The Pasadena Showcase House of Design is one of the oldest, largest and most successful house and garden tours in the nation! Showcase is open to the public for four weeks during April and May.
Approximately 35,000 visitors tour the property each year and visit the onsite Shops and the Restaurant at the Showcase House. It is always an honor to be chosen to be a part of it!
2014 marks the 5th year that Mystic Water Gardens will be a designer at the prestigious Pasadena Showcase House of Design.

This year Mystic Water Gardens will be working with a 100 year-old, functional, river-rock spring house that we will be converting into a wine cellar. Beside it we will build a beautiful pond and stream that we will create to seem as though it's always been there. We cannot wait!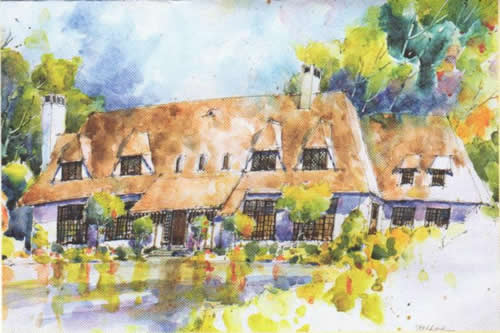 The 50th Pasadena Showcase House of Design will be featuring a stunning 1915 English country estate designed by Stiles O. Clements, architect of El Capitan Theatre in Hollywood and the Mayan Theater in downtown Los Angeles, as well as Beverly Hill's High School's Swim Gym, memorably featured in It' A Wonderful Life.
The house features seven bedrooms, ten baths, five fireplaces, oak floors, redwood floor paneling, and floor to ceiling leaded glass windows.
The 2014 Pasadena Showcase House of Design will run from
April 13 through May 11, 2014
We receive a limited number of complimentary tickets. Please call the office if you would like a pair before they are all spoken for!
We would love for you, our valued customers, to come experience this slice of paradise!
Tickets to the 2014 Pasadena Showcase House of Design are on sale now and can be purchased online, by phone or by mail order.
Online: www.pasadenashowcase.org
Phone: (714) 442-3872
Good to know: Guests can revisit the Exterior Design Spaces as well as the Restaurant and Shops at Showcase without a ticket any time that Showcase is open to the public.
---
Mystic Water Gardens
Nationally recognized and Award Winning Designer creates one of a kind water features that are 100% eco-friendly.

Steve Sandalis is President & CEO of Mystic Water Gardens. Sandalis has been featured in many national magazines, television shows and is now launching a blog and newsletter to share his passion, advice and tips for everyone who loves the green industry. Sandalis believes that water is the elixir of life. By using custom water features as a basis in many of his landscaping designs, he is able to incorporate the essence and passion that many come to him for. Many of our clients tell us that our water gardens change their lives. Sandalis adds, "Water is an intense attraction to people and satisfies our senses through the sounds that only water can make. Our water features are designed to create a tranquil and comforting environment, providing peace, serenity, and family enjoyment year-round".

ABOUT MYSTIC WATER GARDENS
As seen on Extreme Makeover: Home Edition, Mystic Water Gardens designs, builds, and maintains amazing custom-crafted waterfalls, lakes, ponds and streams. In addition to building award-winning and innovative landscape creations, Mystic Water Gardens water features are designed to be low maintenance and 100% eco-friendly. Located in Southern California, Mystic Water Gardens has designed and constructed custom water gardens, lakes and high end designs for many high profile celebrities.