Zen Garden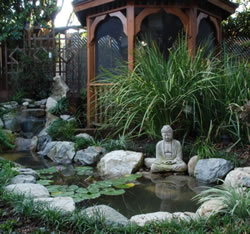 Green and lush gardens make outdoor spaces beautiful and relaxing, but the usual problem is maintaining them. Gardens need proper maintenance to preserve their vibrant color and health. At Mystic Water Gardens we have a solution for you. We can design and install a Zen garden that will not only bring in natural, soothing, and therapeutic atmosphere to your outdoor area but also help minimize your maintenance expenses. This low-maintenance garden setup is perfect for small and large landscaped properties.
Japanese Garden—A Place of Meditation
and comtemplation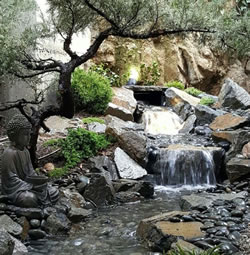 Japanese gardens were first seen in Zen Buddhist temples, which are noted for their dry landscape setup and minimal-designed gardens. In recent years, they have become miniature versions that incorporate careful placement of rocks, moss, bonsai plants, ponds, sand or gravel, pruned trees and bushes, spiritual effigies, and proper lighting. A Japanese garden evokes symbolism of nature and spiritual beliefs (Buddhism and Shinto), thus making it a great spot for meditation and contemplation. A Zen garden is actually called "karesansui" in Japanese, which loosely translates to a "dry landscape." While it is typical to find these Japanese rock gardens within Zen Buddhist temple grounds, they are now popular features in residential properties as well as commercial places.
Begin to enjoy TODAY all of the beauty, nature and tranquility that a Zen Garden has to offer.
Serving Los Angeles, Calabasas, Malibu, Pacific Palisades, Hidden Hills, Studio City, Chatsworth, Sherman Oaks, Thousand Oaks, Agoura Hills, Porter Ranch, Brentwood-LA, Rancho Palos Verdes, Encino, Tarzana, Pasadena, La Cañada Flintridge, Alta Dena, San Marino, Beverly Hills, Santa Monica, Camarillo, Burbank, Culver City
CALL (818) 424-6836 for free consultation.
Rock Garden
One of the elements of a Zen garden is rock. If you want to highlight the use of this element, then we can create a rock garden for you. A Zen rock garden creates a rugged look but still offers natural beauty. Adding rocks is a great way to jazz up an average garden; rocks come in various shapes, colors, and textures, so they help establish the right mood for your garden scene. In a Japanese rock garden, rocks symbolize mountains, living creatures, or waterfalls, rivers, and streams. These rocks are rarely arranged in straight lines and designed to emphasize harmony of the composition. Rock gardens are low-maintenance and create a touch of natural subtlety to your surroundings.
Japanese Garden Design
If you are craving for a space of meditation and calm, having a Japanese garden design is the way to go. The Zen garden design promotes tranquility, harmony, and peace. It is based on these principles: Miniature scale, Miegakure (concealment), Shakkei (borrowed scenery), and asymmetry. Gardens in miniature scale represent nature where mountain views, rivers, and streams are being miniaturized using rocks, sand, and gravel. In Miegakure, garden features are concealed in walls and structures, hills, and trees, all waiting to be discovered when a visitor trails the winding path. The Shakkei design technique uses the existing scenery (plants, rocks) to supplement the garden. At Mystic Water Gardens, we have the expertise to work on these Japanese garden designs.
Japanese Garden Plants
A Japanese garden incorporates a careful selection of plants to capture the essence of nature. The common Japanese garden plants include flower and green trees, shrubs, flowers, mosses, bamboos, and ferns. While there are great options, you may still need the help of professionals to select the best type of plants for your garden. We can plant background trees such as evergreens, use focal and border trees, such as willow and tulip trees, give your flowering quince and yew hedges a trim, add colorful peonies and azaleas, and incorporate ground cover and texture into your garden using moss and Japanese Ardisia.
Zen Sand Garden—A drought solution
Another way to combat drought is to create a Zen sand garden in your outdoors. Sand and gravel embody water or clouds. White sands mean purity. But Zen sand gardens also use brown, gray or blue-black colored sand. Sand is easier to work with, is more compact, and more resilient.
Zen Lighting
Zen gardens also use lighting where decorative lanterns are often placed in waiting places (machi-ai in Japanese), pagodas, near ponds and other water features, and even hung in trees. Nowadays, ornamental LED lights are being favored by property owners for their added benefits. LED Zen lighting dazzles a warm, inviting light in your gardens and helps you save on electricity.
Zen Pond
Zen gardens often include aquatic garden ponds. A Zen pond usually includes an ornamental carp or koi and aquatic flora, such as water lilies or lotus. This feature brings a sense of calm and peace in your outdoor space. Just let us know if you want this feature included in the garden design.
Zen Bonsai
The typical Zen gardens that you see in Los Angeles use bonsai plants. These plants are grown in tray-like pots or small containers and help enhance the greenery of a landscape. Zen bonsai plants and trees are rich in symbolism and personify Japanese sensibilities and deep respect for nature. At Mystic Water Gardens, we give careful attention to bonsai shapes and textures since they contribute to the overall sense of balance and harmony in your landscape.
Zen Garden Buddha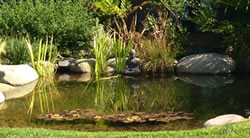 A Zen garden Buddha is another design element that can make your garden look authentic. The basic rule of adding a garden Buddha statue is to provide him a raised platform, a high perch or a mantle. Take care not to surround the statue with pointless objects. An ideal setting is to place the garden Buddha statue (whatever the size) to gaze into your plants, pond, and garden. The statue will definitely enrich the growth and beauty of your garden by channeling positive energies. The garden Buddha statue that we recommend is ideal for your Zen garden since it is made from durable materials. (See the Buddha sitting in the center gazing at the pond).
Zen Garden Pagoda
A Zen garden pagoda is a tiered tower used as a sacred place of meditation and worship. Pagodas are a great addition to your Zen gardens. We will help you choose the perfect pagoda that will suit the size of your garden. Miniature pagodas are great additions to small spaces while bigger ones are recommended for large-sized gardens.
At Mystic Water Gardens, you can rely on our expertise to design, build, and install this special type of garden. Our Zen garden design will make your outdoors a perfect place for relaxation and meditation. It will also improve the aesthetic appeal and market value of your property. Contact us now at (818) 424-6836 and let us fill your landscape with positive energies all year round.
CALL (818) 424-6836 and let us fill your landscape with positive energies all year round.