Water Gardens
Water Gardens are the perfect backdrop to any setting, whether a home or commercial setting. Bringing an element of water as a focal point is a way to bring timeless elegance into a setting that can be enjoyed for all occasions.
About Water Gardens
Water gardens are a perfect way to create a stunning and unique focal point on residential and commercial properties, as well as public sites. Water gardens can be constructed to suit the size and measurements of all types of properties whether they are large or small. Having a water garden featured on a residential or commercial property, helps to create tranquility, peacefulness and a natural setting for all to enjoy.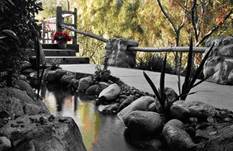 Water gardens can feature many different aquatic plants and animals. A water garden can be a place where different types of plants and marine life can interact and create a natural wonderland within private yards. There is a wide variety of aquatic plants and animals that can make water gardens their home, whether it is small or large. Aquatic animals featured in water gardens require very little care and maintenance as they generally feed off plants, algae and good fungus which is produced within the water garden.
Water gardens are like ponds and much like landscaped gardens. The beauty of a water garden is that it will enhance the yard and create a natural environment where adults and children can relax and simply gaze upon the water feature and enjoy the visually pleasing sites of the garden itself.
Water Garden Accessories and Materials
Waterfalls, statues and other water features can all be a part of the water garden design. The trickling sounds and sights of water splashing through the water garden is an amazing and beautiful site to see and experience all year round. Water gardens can be enhanced during the night time with some outdoor lighting. This allows us to see and view the mysterious and enchanting sights of the water garden during the nightfall.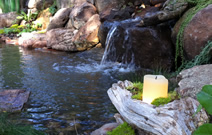 Water gardens which are built from natural stone, rocks and boulders have a truly unique and individual appearance. Natural stones are one of a kind in their coloring, sizing and textures which makes them highly stylish, individual and commonly used. Rocks and boulders also have an individual and unique appearance and therefore they also will create a stylish and elegant water garden frame. The beauty of these materials is that they create a natural setting when they are used to construct water gardens.
Residential Water Gardens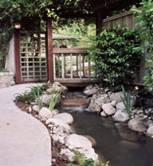 Small properties with very little yard space can still feature a water garden which can be designed specifically to suit the limited space, whether it is a simple or extravagant design they can be tailored to suit the yards size. Larger properties with no limited space can be enhanced immensely with large interconnecting water gardens throughout the space. Water gardens along pathways or walkways create a peaceful and elegant backdrop for an enjoyable walk through the yard in your own privacy.
Water gardens on residential suburban properties allow homeowners to escape the mad rush of suburbia and relax and enjoy peace and quiet in the privacy of the backyard. Water gardens are therapeutic especially after a stressful day at work. Kicking back and relaxing enjoying the surreal setting of the water feature on the property is highly beneficial for homeowners.
Your Water Garden Specialists
Water gardens add the perfect backdrop to any size yard. The versatility of design helps to create the ideal focal point on the property. Water gardens can be built to suit the homeowner's requirement in shapes, size and design. Featuring aquatic animals is also great pet idea for children as they virtually look after themselves. Children will enjoy watching the aquatic animals developing as well as aquatic plants and shrubs.
There is a wide variety of aquatic plants which can be grown in water gardens. Floating candles and floating objects can enhance the look of the water garden within the property.
For more information on our services, call Mystic Water Gardens at 818-424-6836. If you prefer to drop us a line, please use this Online Form.
Areas We Service in Southern California: