Featured on Houzz—
Mystic Water Gardens Awarded Best of 2019!

Visit Mystic Water Gardens Webpage on Houzz!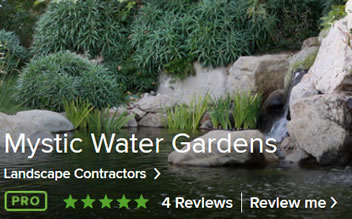 Award Winning and nationally recognized designer, Steve Sandalis of Mystic Water Gardens creates one of a kind, handcrafted water features that are 100% eco-friendly. Check out our projects. Check out our pics. Read the reviews.
We service Los Angeles, Calabasas, Thousand Oaks, Malibu, Studio City, Sherman Oaks, Pasadena, Encino, Beverly Hills, Culver City and neighboring cities in LA area.
CALL NOW FOR A FREE ESTIMATE! CALL (818) 424-6836.
The Artful Garden: Secluded Seating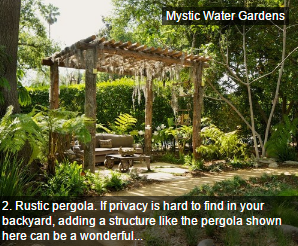 Houzz contributor hand-picked Mystic Water Gardens to be in the featured article 'The Artful Garden: Secluded Seating'
Rustic pergola. If privacy is hard to find in your backyard, adding a structure like the pergola shown here can be a wonderful way to carve out a quiet nook. The natural, bark-on branches and logs used to create this pergola look beautiful with or without plants trailing overhead. Beneath the boughs, a comfy outdoor sofa and coffee table provide a snug place to sit and chat.