Garden Fountain
Garden Fountains can be created in any garden or yard. Garden Fountains can offer the garden a focal point that only water flowing can bring. The flowing of water over rock and boulders is a timeless elegance. Garden pots can offer a unique and distinguished look. With water flowing out of the pot, or urn and disappearing into the decorative pebbles, these garden fountains have a beautiful and lasting impression.
Rock and boulder fountains as well as pots and urns are virtually maintenance free and can be turned off or on a timer to only be flowing when desired, saving energy and electricity. Garden Fountains are the perfect water feature for small areas, atriums, balconies, roof top gardens and courtyards - a great way to bring the soothing sound of water into your surroundings.
Garden Fountains a Popular Waterscape Feature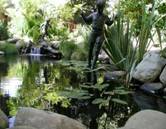 Garden fountains are a popular waterscape feature for residential, commercial and community applications. They can be highlighted in any landscape to create an oasis that is full of natural character with the natural and soothing sound of water trickling. There are many garden fountain designs and styles to suit individual landscape settings. No matter how big or small your landscape is, no matter what shape your landscape is, whether its steep or level and no matter what your budget is, leave it all to us. This is where our expert design team will put their ideas and plans into action. You tell us what you want and how you anticipate making the most of the garden fountain usage and we will come up with the best possible garden fountain design and style after we assess the site.
Customer Satisfaction Is Our Priority

Our design team will then discuss and liaise with you all the most suitable designs and layout options to build you a specific garden fountain that is well suited to the landscape size, shape, surroundings and your individual requirements. We work with you and comprise with you with any additional suggestions you may have to ensure that you are fully satisfied with the design and action plan that we have put forward to you. After all, our main objective is 100% customer satisfaction to make our clients happy as they are our number one priority.
Natural Stone/ Rocks and Boulders
Natural rocks, boulders and stones are our specialty for many waterscape applications. We use these natural components to build all types of garden fountain designs and styles. The reason that we often use natural stones, boulders and rocks, is firstly for their natural elegance and appeal along with their strength attributes, secondly for their natural durability values and exceptional resistance and thirdly for their long lasting values. Natural stones/ rocks and boulders are quarried or mined from the earth's surface that has been in formation for millions of years. They are cut into a large variety of shapes and sizes that can be utilized for various waterscape applications. They are also hand crafted or chiseled by professional craftsmen to produce a wide variety of garden fountain accessories including; figurines, statues, pots and urns.
Attract Wild Birds
Another great aspect of garden fountains is the attraction of wild birds' right in your yard. Just imagine after a hard day's work or a stressful day where you need timeout to unwind and kick back, you can relax outdoors at any time of the day or night by the garden fountain. This is your time where you can relax and unwind in a natural and beautiful outdoor environment with the additions of water sounds trickling as well as the tranquility of birds humming and singing. There is nothing more relaxing, enjoyable and in fact priceless to all the wonderful benefits and advantages with an addition of a garden fountain feature on your property. Your family and friends will envy you and you will probably notice they want to spend more time at your place.
Many Homeowners Opting For Waterscape Features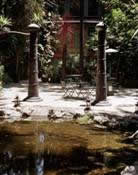 The waterscaping industry just keeps flourishing and continues growing to an all time high. With so many homeowners opting to feature some form of a garden fountain or waterscape application on their property for their functional values and decorative impact that oozes with charm and elegance. The affordability factor is also an attraction, as there are garden fountains to suit personal budgets. Another reason for their growth in terms of popularity is they can actually increase the price of your property by up to 15% in resale value. In long term, this is a wise investment that you will certainly benefit from financially.
The Mystic design team can design a Garden Fountain that is unique and one of a kind. For more information on our services, call Mystic Water Gardens at 818-424-6836. If you prefer to drop us a line, please use this Online Form.
Areas We Service in Southern California: