Pond Maintenance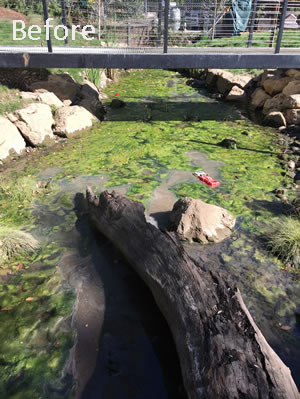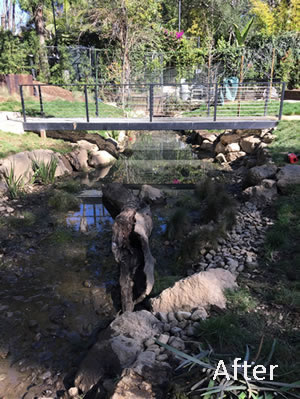 Maintaining your ponds in a DIY manner may not be a good decision since there are technical aspects that must be considered. Your best option is to get the help of pond experts like us at Mystic Water Gardens.
We are certified Aquascape contractors with decades of experience in pond management and care. Our complete pond service package includes pond cleaning and other effective pond care solutions. We also have complete tools and equipment for all kinds of pond maintenance jobs. Call us today and we will take good care of your prized water features.
We offer a wide variety of cleaning and maintenance services:
Koi Pond Maintenance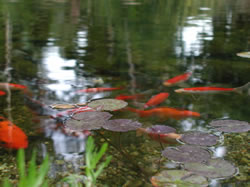 When you're specifically looking for people to clean your Koi pond, you won't have to look elsewhere since it's one of our specializations here at Mystic Water Gardens. As a well-experienced Aquascape contractor, we follow the right methods and techniques when performing Koi pond maintenance. We make sure that your koi fish are well taken care of during and after cleaning the pond. Our people can check for problems in the filters, perform water quality assessment, and apply the right remedy to achieve the perfect environment for your fish. Our meticulous handling of the fish, aquatic plants, and other pond installations is one of the reasons why majority of California pond owners choose us.
Pond Cleaning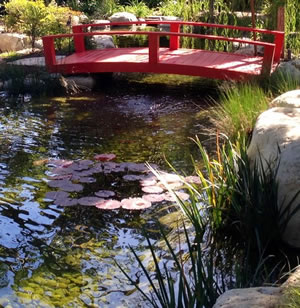 We can perform regular pond cleaning tasks or you can simply call us when you need our assistance to clean your pond. Our monthly basic cleaning consists of removing all debris from the surface, scrubbing rocks, removing algae build-up, trimming back aquatic plants, and checking the lights, pump, and filters. This particular pond maintenance job typically takes us only about one hour to complete but we can assure you of outstanding results.
Meanwhile, our Full Clean Out Services consists of draining the water from the pond and removing debris, muck, leaves, and other contaminants. Additionally, we do power washing of rocks, removal of algae, cleaning of light fixture lenses, and trimming back of plants. Moreover, our crews will refill the pond with fresh water and add chemicals or water treatment if needed. If your pond has fish in it, we will first remove them and put them in a holding tank to keep them alive. Once we have filled the pond with fresh water, we will re-acclimatize the fish so they won't get stressed out. Unlike our basic pond cleaning service, this process normally takes anywhere from 1/2 day to a full day. It could take longer, depending on the size of the pond but the results will nonetheless be just what you expect and need.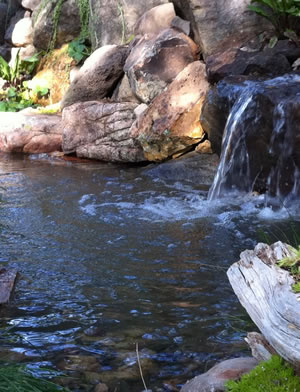 Pond Management
When it comes to pond management solutions, our company offers the best services that you can possibly have. While it may seem simple, managing a pond actually requires a lot of technical works to ensure that the pond ecosystem remains at an optimum level. Whatever your ultimate goal is, rest assured that we have the perfect solutions ready.
Pond Care
Our complete pond care services are just what you need to keep your pond's environment healthy and conducive for both fish and plants. Our dedicated pond experts know the appropriate care techniques to apply, depending on the season and your particular problems and requirements. We can feed the fish, patch liner, replace filters, install a UV light sterilizer for treating green water caused by algae, remove leaves and debris, fertilize plants, and do other things that you require or that your pond needs. Our pond maintenance services also include algae control and removal.
Algal Bloom
Algal bloom is among the most common problems of pond owners. Aside from discoloration of the water, this phenomenon also leads to the production of toxins that could adversely affect the health of fish and aquatic plants. But the good thing is that we have people who have tackled such problems in the past, so you can have the best help possible if you're experiencing this particular issue.
Algal Bloom Causes
There are several known algal bloom causes that are worth noting. First is the presence of a high levels of nitrogen or phosphorous in the water and when the water is particularly warm like during summer. The nutrients are a magnet for cyanobacteria while the high water temperature offers a fertile breeding ground for such algae species. Additionally, waters that flow with particularly low turbulence are known to induce rapid growth of blue green algae, and ponds are among places where algal blooms are rampant.
Pond Algae Solutions
The good thing about algal blooms is that they are not a hopeless case. As it is, there are some simple yet highly effective pond algae solutions to control or eliminate algal blooms in your pond. One is to introduce underwater and floating plants such as Anacharis to help remove excess nutrients, a high level of which normally leads to algal blooms. Another way is to ensure proper and periodic maintenance of pumps, filters, and other components to avoid creating the perfect environment and conditions for algae to flourish. Additionally, you could install UV sterilizer to inhibit algae growth and maintain the cleanliness of the water. There is no single absolute solution to algae problems so it's best to let us handle these problems. Our solutions are proven effective by many satisfied clients across California.
Pond Dredging
Pond dredging is another service that we can handle with utmost efficiency. When the pond's water has become mucky, it is the perfect time to have it dredged to clean it up and refill it with fresh water. Our crews have all the right tools and dredging equipment to go about the task with ease. As a rule of thumb, we will first relocate aquatic plants and fish in clean containers. Then we will dredge the pond using dedicated equipment. Our crews will then remove the muck that has accumulated at the bottom and clean the area up before filling the pond with clean water. Once this phase is done, we will then re-place the plants and fish and re-acclimatize the latter. Our pond dredging service is performed by highly skilled crews, so you are assured of outstanding results.
Areas We Service in Southern California: