Garden Ponds
Garden Ponds are the perfect backdrop to any setting, whether home or commercial. Bringing an element of water as a focal point is a way to bring timeless elegance into a setting that can be enjoyed for all occasions.
Create A Whole New Dimension With A Garden Pond
An addition of a garden pond within your landscape setting can create a whole new dimension to the overall presentation of your property. They are a beautiful landscape application that can highlight any part of your yard with their decorative appeal and natural appearance. As for their functional aspects, they are a wonderful aquascape to have aquatic life and aquatic plants live in the pond right at your door step. For those homeowners and consumers who just love the idea of adding a garden pond to their existing or new landscape setting, you need not look any further as we at Mystic Water Gardens will create the perfect aquascape setting and backdrop with our professional design team. The design team will come out to your property and assess the area for the design phase, in shape, size and other surroundings. They will discuss all the design options that are best suited to your property and any individual requirements you desire. We don't just design and build garden ponds to how we think they should look like, we talk to our clients and discuss all relevant matters, personal ideas and together we will come up with a unique garden pond design plan.
Garden Ponds Represent Natural Habitat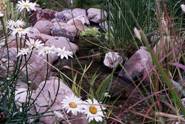 The characteristics of garden ponds are all about water, as water is the main and central element with the organic nature that truly represents natural habitat. The majestic sounds of water trickling constantly has a calming and soothing affect which connects humans immediately with nature. As for having your own fish in the pond, these beautiful creatures also have an instant connection with a natural pond habitat.
Another benefit of featuring a garden pond is the attraction of local wildlife, depending on the area where you live. A garden pond can attract different wildlife species which include butterflies, birds, bugs and frogs which all of these species will somehow gain and benefit from a man made garden pond.
Homeowners Love Garden Ponds
The consultants and staff at Mystic Water Gardens often ask home owners and consumers the real purpose and why they want an addition of a garden pond feature on their property.
The following are some of the more common answers and main feedback responses we receive:
They want a peaceful area in a natural environment where they can meditate, unwind, and relax outdoors, surrounded by the soothing sound of water trickling.
A great perception to help them with their relaxation technique, with sounds of water, birds humming, and the sight of fish swimming in the pond.
To have a unique garden setting that adds natural character and visual beauty, both day and night.
They love to have fish as pets and want to experience the gracefulness, peacefulness, and how fish integrate calmly with one another.
A great place for reflection.
To have a beautiful outdoor area for family and social gatherings.
Some like to use the pond as a science experiment.
For clients with young children, it's an educational journey to teach young children all about the ecosystem.
To increase the value of their property for resale purposes.
Garden Pond Structures Using Natural Rocks/ Stones And Boulders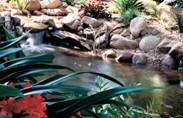 Although there are many man made landscaping materials that ponds are built from, the teams at Mystic Water Gardens believe in using real natural rocks, stones and boulders rather then man made materials. There are some fabulous man made products that do mimic natural stone, but they are not as durable, versatile and long lasting like natural compositions. Our main objective is the reality in achieving the true visions and inspirations from ponds that naturally exist.
The Mystic Design team can design the garden pond of your dreams. For more information on our services, call Mystic Water Gardens at 818-424-6836. If you prefer to drop us a line, please use this Online Form.
Areas We Service in Southern California: