Pondless Waterfall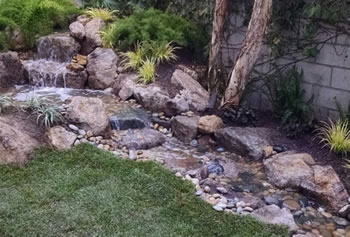 Are you looking for an expert builder of a pondless waterfall? If yes, please call our direct line today and let us start discussing your needs and requirements. At Mystic Water Gardens, we have certified aquascape personnel who can design and build your dream water features. Our crew has extensive experience in creating customized waterfalls for residential and commercial clients all over California. They can work on traditional waterfall designs or install modern types such as pondless or disappearing waterfalls.
A pondless waterfall offers great benefits that simply can't be ignored. First, homeowners can still have their waterfall built even if they have a limited budget for the waterscaping project. They can also enjoy the sight and sound of running water without worrying about the cost of maintaining such features. Moreover, the pondless type is your best option if you have children and ageing family members. With this type, they can also enjoy and marvel at the beauty of your custom-made waterfalls.
Disappearing Waterfall Is as Intriguing as Practical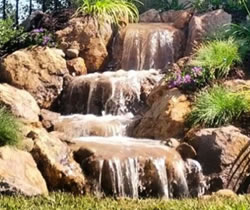 The disappearing waterfall is the easiest waterscape to manage and maintain. You don't have to worry about frequent cleaning and filter replacement, high water consumption, and the safety of the people visiting your waterfall. When installed by a certified aquascape contractor like us, you are guaranteed that it will function flawlessly with minimal maintenance efforts. The pondless waterfall that we install can last for years because of our topnotch craftsmanship and use of premium products and accessories.
Pondless Waterfall Design by Mystic Water Gardens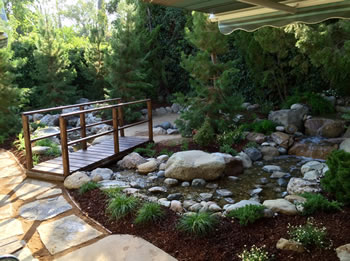 At Mystic Water Gardens, we have skilled aquascape designers with extensive experience in custom pondless waterfall design. Our clients will get one of a kind water features that are designed exclusively for them. We sit down with them and ask about their ideas and future plans for the landscape. We consider this information before we start working on the design plan. Our close collaboration with clients always results in outstanding waterfall designs.
Backyard Pondless Waterfalls
One of the most favored additions in a landscape is the backyard waterfall. This is not surprising since these can be designed according to the preferences of the property owner. Installing one in the landscaped area will dramatically improve its overall aesthetic appeal. But don't just settle for ordinary waterfalls for your backyard. At Mystic Water Gardens, we recommend installing a pondless waterfall for its low-maintenance costs and unique charm. Another great thing about our waterfalls is their sustainable design. We employ effective methods that minimize water use, encourage natural filtration, and promote the growth of aquatic plants. The waterfall kits that we use are top-quality since we source them only from reputable manufacturers.
Garden Pondless Waterfalls
The relaxing and rejuvenating effects of garden waterfalls are some of the reasons why most Los Angeles homeowners choose them as new additions to their landscape. And if you hire us today, rest assured that you'll also get a uniquely designed and professionally installed garden waterfall. We can install this feature in the middle of your landscape to serve as the focal feature or near an outdoor living area to make your outdoor stay more relaxing. We make this feature more attractive by selecting beautiful aquatic plants that can change color every season or create a relaxing ambiance in the garden area.
For more information on our services, call Mystic Water Gardens at 818-424-6836. If you prefer to drop us a line, please use this Online Form.
Areas We Service in Southern California: