Dry Creek
We focus on using LOTS of color and taste in ALL of our Drought Tolerant Designs and Installations.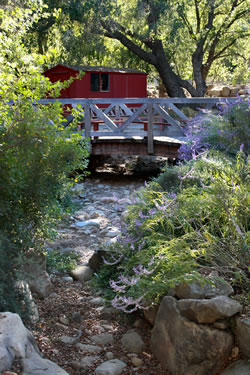 When it comes to waterscaping and landscaping, our expertise and experience can never be questioned. At Mystic Water Gardens, we can provide clients with landscapes that are functional, attractive, and safe. For example, we can expertly handle and provide solutions on common landscape issues such as storm water runoff, drainage problems, and water use. We address these problems by creating new features that will not require clients to spend more on water bills or exert more efforts on maintenance tasks. One effective solution that we highly recommend is the creation of dry creek beds in strategic locations around your property. As a licensed landscaping contractor and award-winning aquascape installer, our company is definitely the best contractor to hire for this job.
By adding a dry creek in your landscape, you can effectively manage water runoff by directing it away from critical landscape features and installations. It will also prevent standing water in certain areas of the landscape that could become a breeding ground for insects and mosquitoes. Not only that, dry creeks are also highly attractive, and you can expect dramatically increased appeal of your yard.
Dry Stream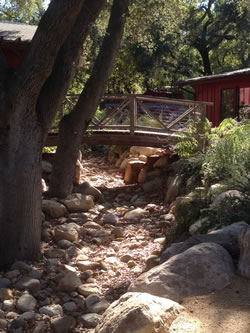 We can effectively enhance your landscape's beauty and functionality by installing a carefully planned dry stream. We can guarantee a seamless design that will make the stream blend well with the surrounding landscape features. As part of our landscaping services, we have already perfected installing this type of outdoor feature, so you can expect a standout stream that is fully functional. We make sure that our designs complement with other water features or outdoor amenities so the streams don't look out of place. Our dedicated team picks only the right species of drought-resistant plantings. We guarantee to pick colorful plant species to enhance the beauty of the streams we build and make them more natural-looking.
Creek Bed
When creating a creek bed, we use the right materials to ensure positive results. Among the materials that we use are landscape fabric, river rocks, boulders, decomposed granite or flagstones, and the like. We carefully pick the materials based on your desired look, as well as on the existing design of the landscape and the surrounding outdoor amenities. Our crews will expertly prepare the area and then follow our time-tested steps to guarantee the integrity of the bed. We have the right tools and equipment for the job. So even if we need to work on slope areas, we can still handle them with ease.
If you're aiming to improve your landscape's drainage and make it as attractive as possible, having us install a dry creek is among your best options. This landscape feature is a great addition to your outdoor or landscape for its critical functions. It can also be used to improve the aesthetic appeal of your landscaped area. At Mystic Water Gardens, we will provide you with professionally designed and expertly installed dry creeks. Whether you only want a small creek or you need a large one, rest assured that we can install one that is reliable and serve your desired functions.
Your Expert Landscaping Contractor
Call us now at (818) 424-6836 for more information on our Dry Creek services and the other landscaping services that we offer. If you prefer to drop us a line, please use this Online Form. We promise to provide you with the best options and most reasonable quotes for the service that you need. We look forward to serving you soon.
Areas We Service in Southern California: