Ponds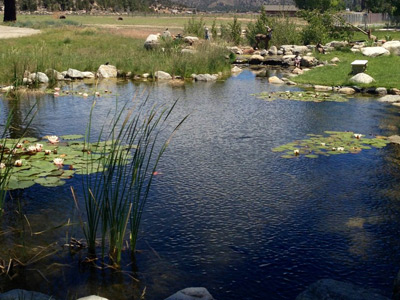 Ponds have long been preferred water features for their tranquil beauty and the sense of serenity they bring to any landscape. Property owners in Los Angeles, CA, are increasingly opting for pond installations, recognizing the myriad benefits they offer in elevating the aesthetics and ambiance of their outdoor spaces. These elements need proper planning and building, and you need professionals for the project.
At Mystic Water Gardens, we are a leading company in this domain, specializing in creating creative and unique ponds that breathe life into your surroundings.
Our Pond Design and Installation Expertise
We cater to client's specific requests and design and build the best ponds using:
Creative Excellence - Our team infuses creativity into every pond project we undertake. We understand that each property is unique, and our designs reflect this, ensuring that your pond complements your landscape seamlessly.


Expert Craftsmanship - We take pride in the meticulous craftsmanship of every pond installation. Our skilled artisans use high-quality materials and techniques to create stunning, long-lasting ponds.


Sustainable Solutions - Mystic Water Gardens is committed to ecological harmony. Our pond designs are not just beautiful but also environmentally sustainable, supporting the healthy balance of nature within your property.


Low Maintenance - Our designs prioritize low maintenance, ensuring that you can enjoy the beauty of your pond without excessive upkeep.


Personalized Service - We offer customized solutions to meet your needs and preferences, tailoring each pond installation to suit your vision.


Types of Ponds We Design and Install
We have the creativity and expertise to install various types of ponds, such as:
Koi Ponds - These serene and captivating features house the elegant and colorful koi fish, creating a soothing atmosphere and symbolizing beauty and abundance.


Turtle Ponds - These ponds are unique aquatic habitats that provide a home for these charming reptiles. They offer a harmonious blend of aquatic and terrestrial environments, allowing turtles to bask in the sun and swim in the water.


Natural Ponds - Mimicking the look of a natural body of water, these ponds blend seamlessly with the landscape, encouraging the growth of aquatic plants and fostering a thriving ecosystem.


Formal Ponds - These geometrically shaped ponds offer a sense of order and refinement to your landscape. They are ideal for a more structured and formal garden design.


Garden Ponds - Ideal for smaller spaces, garden ponds bring charm and beauty to your flowerbeds and outdoor nooks, enhancing the overall aesthetics of your yard.


Customized, Cost-Effective Pond Installations
We recognize that each property owner has unique needs and budget constraints. That's why we offer customized, cost-effective pond installations to suit your requirements. Our team works closely with you to determine the right size, shape, and design for your pond, ensuring it aligns with your vision while respecting your financial considerations.
Our cost-effective approach doesn't mean compromising on quality. We use top-quality materials and proven techniques to create ponds that stand the test of time, providing a long-lasting and visually stunning addition to your landscape. Our commitment to cost-effectiveness is about delivering value for your investment, ensuring you receive the beauty and serenity of a pond without breaking the bank.
For more information on our pond design and installation, call
Mystic Water Gardens
at
818-424-6836
. If you prefer to drop us a line, please use this
Online Form
. We are here to help with all your pond requirements, whether big or small.
Areas We Service in Southern California: