Backyard Waterfall
Back Yard Waterfalls are the perfect backdrop to any yard. Bringing an element of a Back Yard Waterfall as a focal point is a way to bring timeless elegance into a setting that can be enjoyed for all occasions.
Water is a fine source of life, without it there would not be life. Water is enjoyed in various different ways whether it is quenching thirst or flowing through a waterfall. Waterfalls are used in various ways whether they are formed naturally throughout the world's rainforests or simply man made masterpieces.
Backyard Waterfall Features
Returning home after a stressful days work is simply satisfying. Heading outdoors to enjoy your very own private backyard waterfall can be highly pleasing. Not only will the soothing sounds of the waterfall relax and help homeowners to wind down but also, the visually pleasing aspects of the waterfall will send you into a trance of relaxation surrounded by your very own serenity.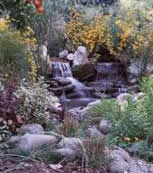 Backyard Waterfalls can be specially designed to suit homeowner's yard size, design preferences and their wants and needs. There is a wide variety of waterfall designs which can be implemented into residential or commercial yards. Large free flowing waterfalls can be designed to suit homeowners with large backyard space. The waterfalls can be made to look as natural as possible to offer homeowners the feeling of being out in the wild amongst Mother Nature's finest creations. Small waterfalls can also be created where space is limited; no matter what the type of design iit will definitely be pleasing.
Backyard Waterfall Designs
Natural stones and boulders are truly unique pieces of nature. They are found in various colors, shapes, sizes and textures. These stones have a unique and individual character which makes them a great choice for creating a backyard waterfall. The timeless elegance of natural stones helps to create a waterfall in the yard which is highly unique and individual.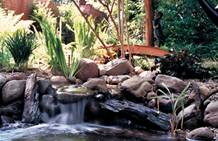 Backyard waterfalls can be simply designed to suit the size of the yard. Implementing boulders, rocks and natural stones as the main part of the waterfall is creative as this fine material offers an individual and elegant outlook. The rocks can be transformed into a waterfall for the backyard which replicates a natural waterfall from the rainforests of the world.
Backyard waterfalls can be made to look as realistic and natural as possible. They can be also made to fit into the homes current landscaping design and outlook. The waterfall design can be made simple with a selection of natural stones, rocks and boulders or large masterpieces featuring statues and many other features.
Enhance Current Landscape
The current landscaping design which is around your backyard can be the inspiration for the design of the backyard waterfall. Tropical landscaping will feature many exotic and luscious plants, trees and shrubs therefore the waterfall can be designed with the same tropical elements. Simple and standard landscaping designs will generally feature plants, shrubs and trees also; the backyard waterfall design can be fit into the landscaping as creations which is the focal point in the yard.
Backyard Waterfalls are the perfect addition to any types of yard for visually pleasing aspects as well as aesthetic values. Waterfalls will not only look good within the yard, they will create a stunning focal point and enhance the features right throughout the yard. Connecting ponds can carry aquatic life of all kinds all year round.

Backyard waterfalls create the perfect setting within the yard. The relaxation, peacefulness and pure tranquility of your very own waterfall can all be enjoyed within the privacy of your very own home. The soothing sounds of water flowing is highly therapeutic for many. The pure relaxation and visual aspects of a waterfalls can not only be enjoyed by owners but also visitors, guests, friends and families will also benefit and be relaxed by the trickling, soothing sounds of the backyard waterfall all year round.
The Mystic Design team can design a Backyard Waterfall that is unique and one of a kind. For more information on our services, call Mystic Water Gardens at 818-424-6836. If you prefer to drop us a line, please use this Online Form.
Areas We Service in Southern California: