Drought Tolerant Plants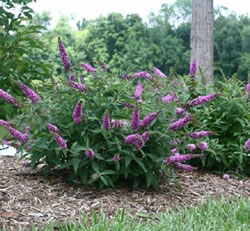 At Mystic Water Gardens, we can create beautiful landscapes that can withstand California's hot and dry climate. We employ modern landscaping methods and techniques to reduce water consumption and minimize maintenance costs, while creating aesthetic beauty. For example, we use drought tolerant plants in our landscaping projects to help clients conserve water. Clients can also save time and money since these types of plantings require minimal maintenance efforts.
Drought Tolerant Landscaping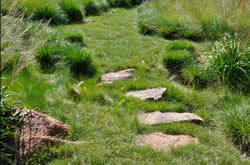 Creating drought tolerant landscaping requires experience, skills and in-depth knowledge of the process. We are proud that we are one of the very few landscapers in the Los Angeles area who can provide this kind of service. Our drought tolerant landscape will consume 50% less water than traditional landscape designs. We achieve this by using native plantings and water-efficient landscaping techniques such as xeriscaping.
Drought Resistant Plants
Choosing the right drought resistant plants for your landscape is easy for us since we have partner nurseries across California. From annuals and perennials to shrubs and trees, we can source the perfect native plant species for you and install them in your landscape setting. Shown below are Lantana and Hummingbird Sage: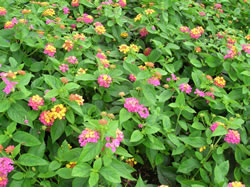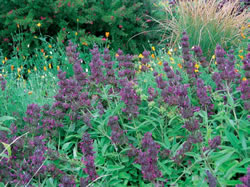 Drought Tolerant Ground Cover
If you need ground cover that will not only provide an aesthetic lift to your garden but also endure the warm and dry climate of California, please call us. The drought tolerant ground cover that we install can easily make your landscape more inviting. Your choices include rockrose, moss phlox, winecups, lantana, wild lilac, bearberry, wild strawberry, and other native varieties. Shown below are Golden Variegated Sweet Flag and Ceanothus yankee point.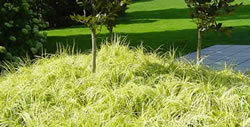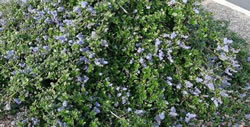 Drought Tolerant Trees
Trees are great additions to any type of landscape because of their important functions. They can provide shade, act as windbreakers, or improve the aesthetics of the outdoor area. The drought tolerant trees that we can recommend are Western sycamore, Pacific wax myrtle, coast live oak, Freemont cottonwood, and California bay laurel.
Drought Tolerant Shrubs
The drought tolerant shrubs that we can install on your landscape include California redbud, Cleveland sage, coffee berry, and ceanothus concha. You may also request for other varieties to achieve the look or theme that you want for your landscape. Shown below are the flowering Bush Anemone and the Island Snapdragon.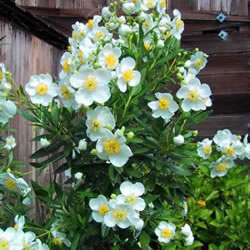 Drought Tolerant Flowers and Perennials
You can have beautiful gardens that bloom all year round with our drought tolerant flowers and perennials. Our plant experts will create the perfect plant combinations to achieve a colorful and lush landscaped area. The annual flowers that we usually recommend are cosmos, cypress vine, poppies, strawflower, zinnia, verbena, angelonia, alyssum, tithonia, and gazania. Your options for the drought-resistant perennials include butterfly bush, gaura, evening primrose, yarrow, gaillardia, and yellow coreopsis. Shown below are Red Day Lily and Amethyst Mist Coral Bells.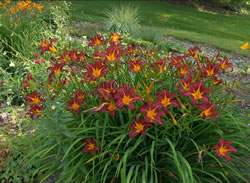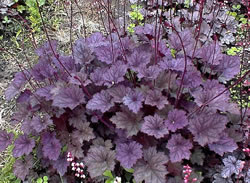 Drought Tolerant Shade Plants
Shade plants are excellent additions because they can be used to highlight certain areas in the landscape. The drought tolerant shade plants that we recommend include natal bottlebrush, California honeysuckle, sticky monkey flower, coyote mint, witch hazel, California peony, hummingbird sage, canyon sunflower, and clematis. Shown below are Western sword fern and Cyperaceae.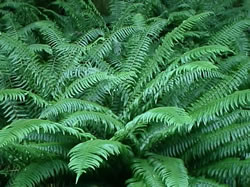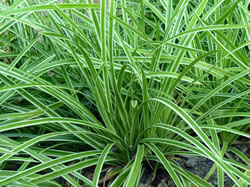 Drought Tolerant Lawn
Most property owners are worried about the cost of maintaining a lawn. We understand this concern since the turf requires frequent mowing and ample water to grow healthy. But you can dramatically reduce the lawn maintenance cost if you opt for our "no mow" lawn package. Our Native MowFree grass sod can be installed on any type of property and doesn't require mowing. You only need a string trimmer or weed eater to cut the grass to your desired height, which can be done once or twice a year. Since this is a drought tolerant lawn, you can save up to 75% on your water consumption. Shown below are No Mow Grass and California meadow sedge.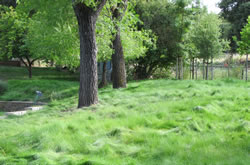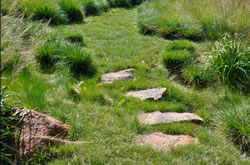 For more information on our drought-resistant plants services, call Mystic Water Gardens at 818-424-6836. If you prefer to drop us a line, please use this Online Form.
Areas We Service in Southern California: