Koi Pond and Waterfall - a Makeover in Thousand Oaks, CA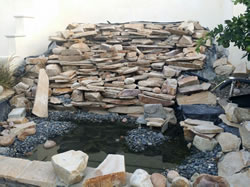 The homeowners, in Thousand Oaks, CA, called Mystic Water Gardens because they wanted to redo their existing Koi pond and waterfall. They had already given away their fish and had drained the feature, and they were ready for a refurbish! They were looking for something much more aesthetic, efficient and that would solve the issues they were having with the previous setup.
On the right you can take a look at the old pond and waterfall setup before we started the renovation project. Everything had to be taken out and redone from scratch.
Aesthetic Design for the New Pond and Waterfall
After talking with the clients and getting a clear idea of what they wanted, we sketched a design by hand. The homeowners loved the design, and that's when we got the project rolling. We paid close attention to every detail and kept the homeowners in the loop as we started the construction. This way, we ensured that the final waterscape would be exactly what they had in mind.
Enhancing Koi Fish Safety and Pond Aesthetics
They wanted to include a koi fish pond, but they'd been dealing with issues like wild birds and critters bothering the fish. We suggested a practical solution – adding some safe spots for the fish. They liked the idea, so we went ahead and built fish caves in the rocks around the pond. These fish caves not only protect the koi but also create a cool underwater area in the pond. With these additions, the homeowners can now enjoy their koi pond without worrying about any unwanted visitors bothering their fish.
Landscaping Rocks for a Natural Look
Considering the aesthetics they were looking for, we settled on the pond being approximately 10 feet x 14 feet and about 3 ½ feet deep. Their preference was for a natural and pleasing landscape, so we opted for real rocks to achieve an authentic, nature-inspired appearance. With various rock options available, we selected earth-toned, angular rocks that harmonized with the existing hardscape, mirroring the landscape of Thousand Oaks. The final outcome was a koi pond and waterfall that seamlessly integrated into the environment, creating a genuinely natural look.
Submersible LED Lights to Light the Koi Pond and Waterfall at Night
Our client loves to spend evenings near the pond so the answer was LED Lighting. We used submersible LED lights in the waterfall and in the pond to create a gorgeous effect in the evening hours. LED bulbs are also extremely energy efficient and long lasting. The clients loved how the lighting created an inviting environment at night for them to enjoy the pond, waterfall and their fish.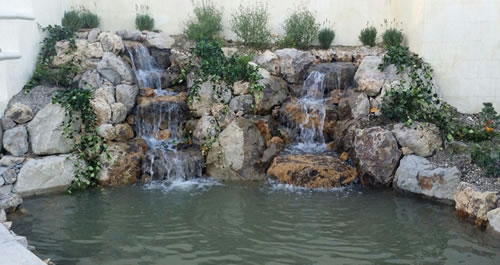 For more information on our projects, call Mystic Water Gardens at 818-424-6836. If you prefer to drop us a line, please use this Online Form.
Areas We Service in Southern California: