Pond Builder in Westlake, CA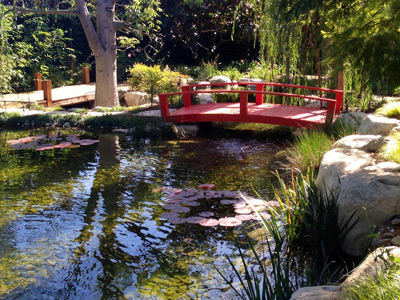 Ponds
are a captivating water feature that can elevate any landscape or yard. These serene aquatic gems offer many benefits, from their aesthetic allure to their environmental contributions. These water features introduce a sense of tranquility and natural beauty, serving as focal points that soothe the senses.
They provide habitat for wildlife, fostering biodiversity and ecological balance. Ponds also improve air quality by absorbing carbon dioxide and releasing oxygen. Their reflective surfaces create enchanting visual effects, amplifying the overall charm of your outdoor space.
By adding this water element, you enhance the aesthetics of your landscape but also embrace the serenity and sustainability of nature's aquatic wonders.
Local Pond Installation Experts
At Mystic Water Gardens, we are the preferred pond builder in Westlake, CA. We excel in delivering diverse pond installations that redefine outdoor spaces. Our hallmark is the expertise to bring your unique pond vision to life. With a wealth of experience and a passion for creativity, we meticulously design, and plan ponds tailored to your desires.
Whether it's a tranquil koi pond, an enchanting water garden, or a vibrant ecosystem pond, our team's adeptness ensures each project is a masterpiece. We combine artistry, sustainability, and technical proficiency to craft ponds that harmonize seamlessly with your landscape.
Types of Ponds We Can Design and Install
We can help transform your outdoor haven into a captivating aquatic paradise, reflecting your style and preferences. Our team is creative and skilled and can design and plan various types of ponds, such as:
Fish Pond
Turtle Pond
Natural Pond
Swimming Pond
How You Benefit from Choosing Our Pond Building Services
Comprehensive Planning - Our services commence with meticulous planning, including thorough surveys of your space to identify the perfect location and size for your pond.


Innovative Design Ideas - We offer a wealth of creative design ideas to inspire and guide you in achieving your dream pond, ensuring it aligns with your vision and complements your landscape.


Creative Input - Our team provides valuable creative input, leveraging years of experience to enhance your pond's aesthetic appeal and functionality.


Expert Design - With our team of experts, your pond design is in capable hands, ensuring that every aspect, from the layout to the choice of materials, meets the highest standards.


High-Quality Installation - We execute your pond project with precision and expertise, using top-tier materials and techniques to ensure a durable, long-lasting installation that exceeds your expectations.


Custom Pond Builders
At our core, we understand that every
pond
is as unique as the individual envisioning it. That's why we prioritize customization, working closely with you to craft the perfect pond that reflects your desires and complements your surroundings. Our approach hinges on several fundamental principles:
We recognize that aesthetics is paramount. Our team meticulously plans the placement, size, and design of your pond to ensure it harmonizes seamlessly with your landscape, enhancing the overall beauty of your property.


While ponds may require slightly higher maintenance than some water features, we prioritize practicality. Our designs are aimed at minimizing upkeep while maximizing your pond's visual appeal.


We don't stop at installation. Our team provides valuable tips and guidance on the care and maintenance of your pond, empowering you to keep it in pristine condition.


For those who prefer a hands-off approach, we offer comprehensive ongoing maintenance services, handling tasks like cleaning, water quality management, and plant care.


Ultimately, our commitment is not just to build ponds; it's to bring your vision to life while ensuring ease of maintenance and longevity.


For more information on our pond builder in Westlake, CA services, call
Mystic Water Gardens
at
818-424-6836
. If you prefer to drop us a line, please use this
Online Form
. We are here to help with all your pond requirements, whether big or small.
Areas We Service in Southern California: