Jacuzzi Hot Tub and a Bocce Court - a Project in Woodland Hills CA
Our first meeting was with the homeowners of a spacious estate in Woodland Hills. They owned a generous plot of land, full of possibilities but currently lacking in vibrancy. Their desire was to breathe life into this space, turning it into a lively and inviting oasis.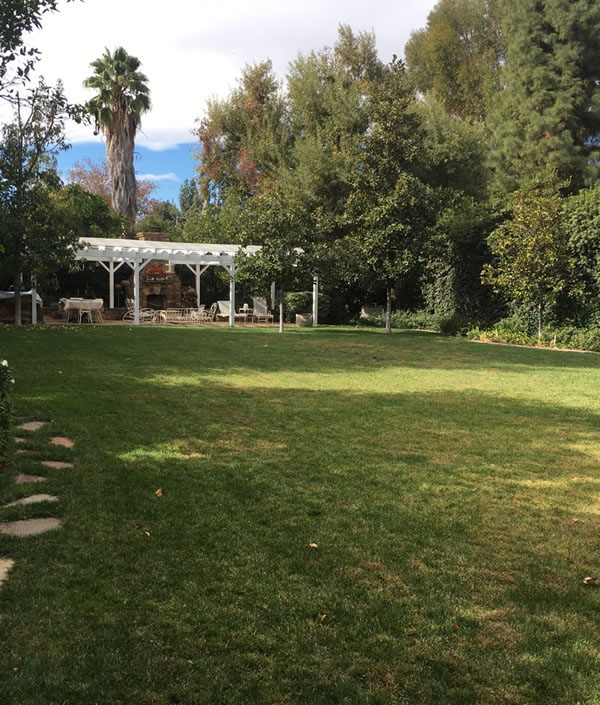 Building a Jacuzzi Hot Tub
As captured in the image below, you can see the Jacuzzi Hot Tub construction process in its initial phases. It's an exciting glimpse into the early steps of crafting a luxurious relaxation spot that promises warm, bubbling comfort and a place to unwind.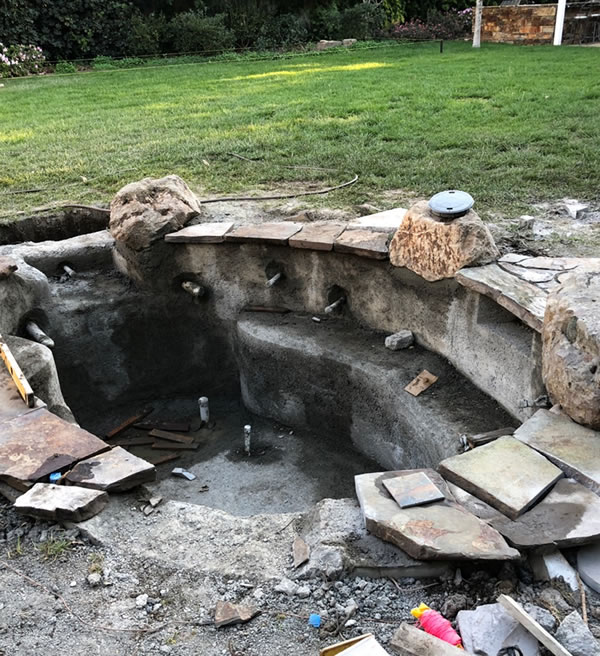 Jacuzzi Hot Tub Designed and Built: The Final Result
Here, you can see the completed hot tub, now harmoniously situated within its beautiful natural surroundings. It's a view that emphasizes the hot tub's charm and how it effortlessly connects with the outdoors, offering a tranquil retreat.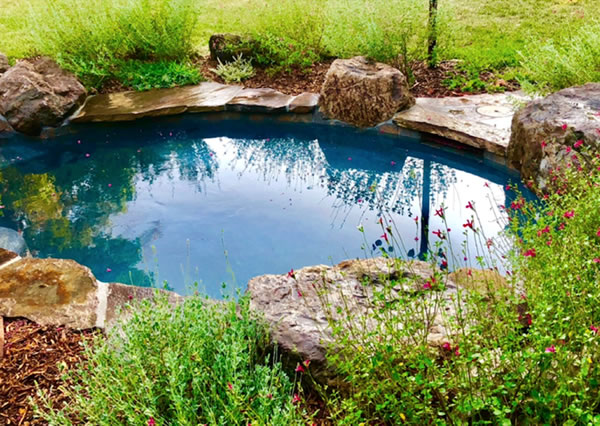 Constructing a Pathway with a Pond and Stream Bridge
We installed a flagstone bridge to create a convenient stream crossing that connects to the decomposed granite (DG) pathway system. The entire project features No Mow Grass, ensuring low-maintenance landscaping throughout. In the background, you can spot the foundation for the upcoming Bocce Court.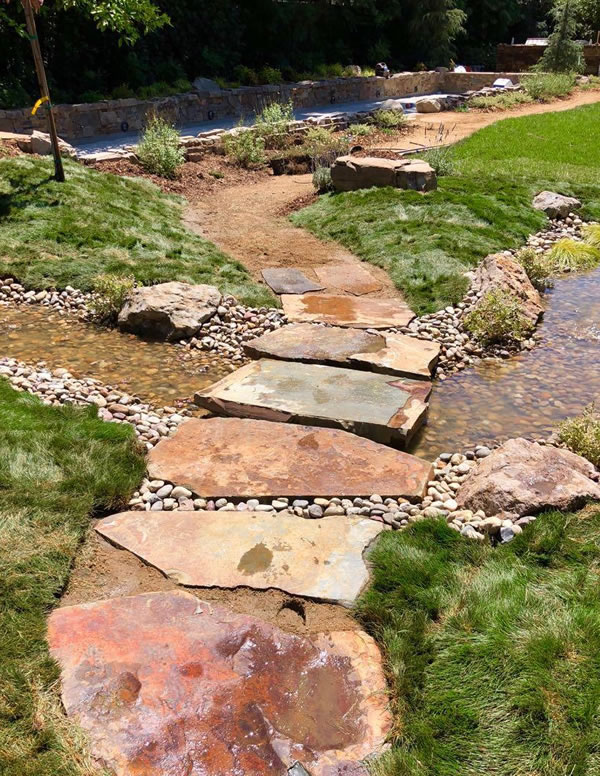 The Stream Running Under the Flagstone Bridge
With the stream gently flowing, it not only adds to the landscape's charm but also fosters a captivating and serene ambiance, perfect for gatherings with family and friends to savor and appreciate together.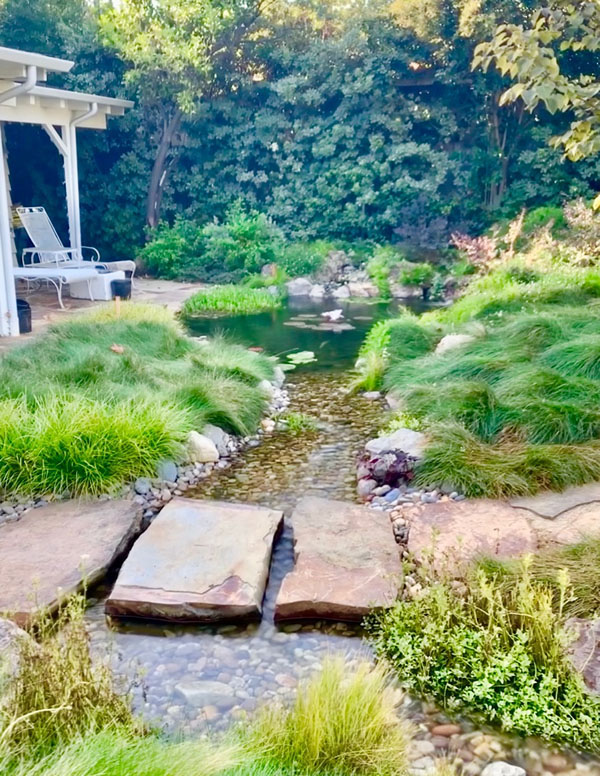 Beautiful Stream, Jacuzzi Hot Tub and Pathway
We designed and built the hot tub, stream and pond system to appear as though they are all connected, however the hot tub is independent of the stream and pond. After installation of the hot tub and water features, we designed and installed all the landscaping, lighting and No Mow Grass throughout the property.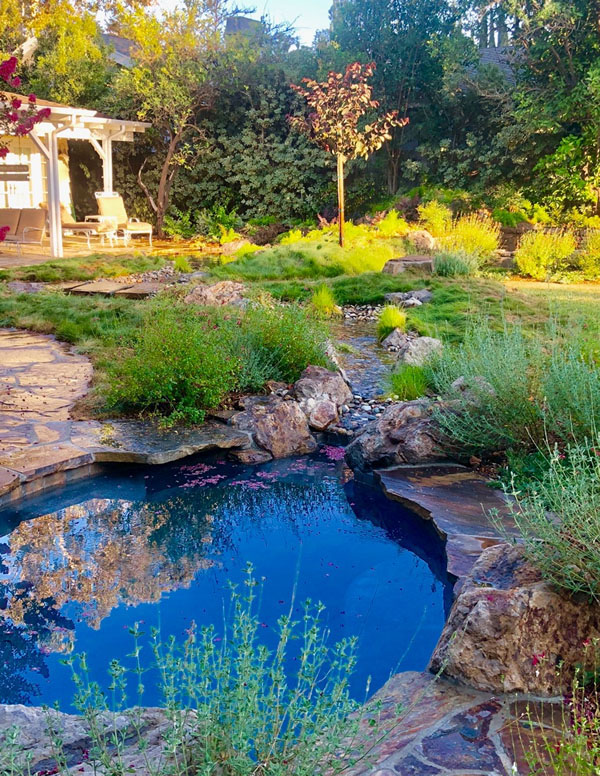 The Bocce Court
Not to be outdone by the beautiful yard, pond and stream, and taking advantage of its large area, we designed and installed an aesthetically pleasing and fully functioning lighted Bocce Court!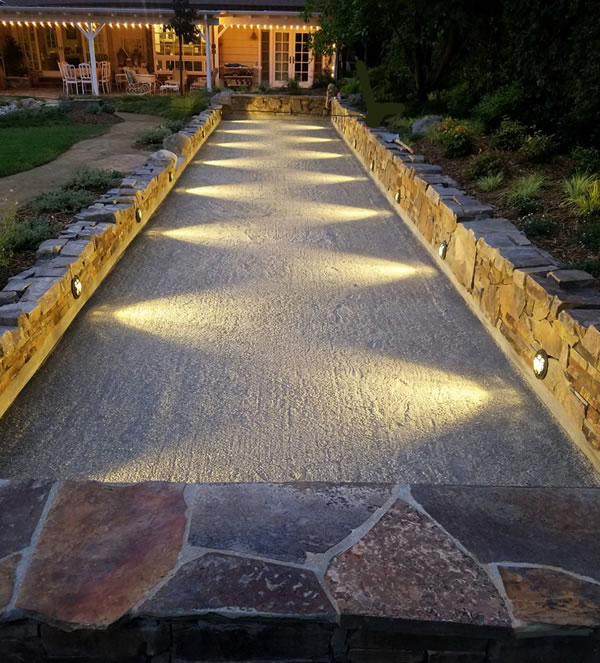 This project has transformed into an outdoor paradise where relaxation, fun, and natural beauty come together. With the Jacuzzi Hot Tub, Bocce Court, and serene surroundings, it's a space to cherish and enjoy with loved ones. We're delighted to have successfully completed this project, providing our client with a remarkable outdoor area for years of lasting memories and enjoyment.
Let us Create Your Dream Home Environment
For more information on our projects, call Mystic Water Gardens at 818-424-6836. If you prefer to drop us a line, please use this Online Form.
Areas We Service in Southern California: