Koi Fish Ponds
Koi Fish ponds are the perfect way to enjoy the beauty only Koi fish can bring. Our team specializes in combining the element of nature in beautiful Koi Ponds for beautiful Koi Fish.
The ideal backdrop to all types of residential and commercial yards is a water feature of any type. Water features are therapeutic as well as tasteful. Water features can be designed purely to suit the requirements of the property. Fish ponds with luscious water garden surroundings are a fantastic choice for style and grace in the yard. Koi fish and gold fish are commonly used in fish ponds and water gardens of all kinds as they are simple to maintain.
Popular Water Features
Koi fish ponds are becoming a popular addition to the residential or commercial backyard. These types of ponds are also used as features for leading restaurants, buildings, public parks and shopping centers. Homeowners can utilize this type of application in their very own yard for the whole family to enjoy.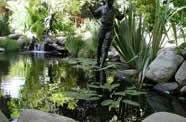 Koi fish require very low maintenance aside from general feeding and proper filtration within the pond. The koi fish pond requires filtration systems to ensure the water is clean and the right temperature for the fish to thrive in and enjoy their home. Koi fish are found in a wide variety of colors and sizes for you to create a colorful and stylish pond.
Fish ponds can also feature aquatic plants. These are beneficial for the fish as they will feed off the plants receiving a nutritious meal. Plants can enhance the look of the koi fish pond and help to blend in with surrounding landscaping or gardens.
Koi Fish Pond Materials We Use
Natural stones are a material which is very unique and enticing. They range in color, texture, shaping and sizes. They can be assembled in many ways to create the perfect pond for koi fish. The ultimate result can be achieved with the use of natural stones is highly individual. Natural rocks and boulders can also be used in the design of the pond, they also offer a unique appearance.

It is important to consider the size of the fish pond and the area of space the property has for the pond. It is important not to build a small pond and fill it with too many koi fish as the koi fish pond will not be successful. Designing the fish pond to best suit the size of the designated space is vital as well as choosing the right amount of koi fish and aquatic plants.
Envisioning the final result of a koi fish pond in your property is an ultimate delight. These types of fish ponds are stunningly beautiful and awesome to sit back and relax watching the fish play. The soothing sounds of the trickling water from the pond are very therapeutic and relaxing during the day and by nightfall. Children can benefit from koi fish ponds as a responsibility to look after the fish or to simply enjoy watching the fish at their best.
Residential Koi Pond Design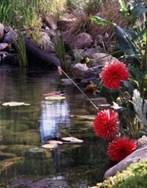 A koi fish pond wherever the application is will help to create the perfect serenity whether it is a public space or a private residential property. The benefits of having a fish pond in the yard are immense from increasing property price to pure relaxation and visual enjoyment for all. Koi fish ponds can be designed purely to suit all types of budgets, needs and requirements.
Fish ponds can be designed to look as natural as possible just like something from the lakes or rivers. Many different types of materials can be used all with individual characteristics which will create the perfect and stylish koi pond for your application. The koi pond can be used as a focal point or center piece within the yard as a stylish and unusual feature.
The Mystic design team can design a Koi Fish Pond that is unique and one of a kind. For more information on our services, call Mystic Water Gardens at 818-424-6836. If you prefer to drop us a line, please use this Online Form.
Areas We Service in Southern California: