4 Putting Greens with Pondless Waterfall - a Project in Chatsworth, CA
Our client had purchased his dream home in the San Fernando Valley. His large backyard offered an incredible blank canvas to work with. In the back of the property was an area with a lot of brush and downed trees. We cleared the landscaping and we designed the space to create four putting greens that would be both useful and aesthetically pleasing. 
Putting Greens and a Pondless Waterfall
As water feature enthusiasts and designers, we couldn't resist the idea of complementing the putting greens with a captivating water feature, specifically a pondless waterfall. It's not just about adding a stunning visual element but also infusing an element of excitement and challenge for the golfing experience. With this addition, we're turning your backyard into a multi-faceted haven where the soothing sounds of cascading water meet the thrill of perfecting your putting skills.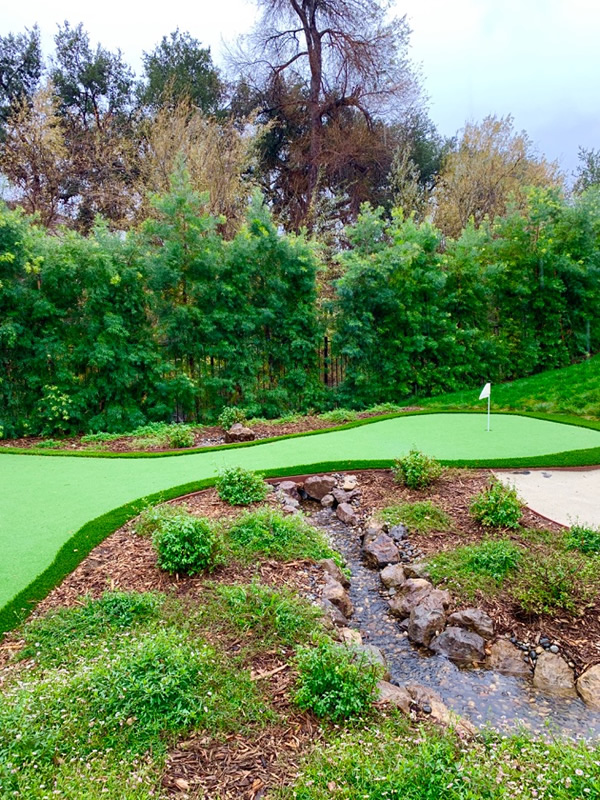 Seamlessly Integrating the Pondless Waterfall
Following the meticulous design of the putting green, our next step was to bring in a 15-foot pondless waterfall, strategically positioned to enhance the overall appeal and serve as a captivating focal point at the rear of the property. This addition not only complements the putting green but also adds an engaging touch to the landscape, turning your backyard into a tranquil yet visually intriguing outdoor space.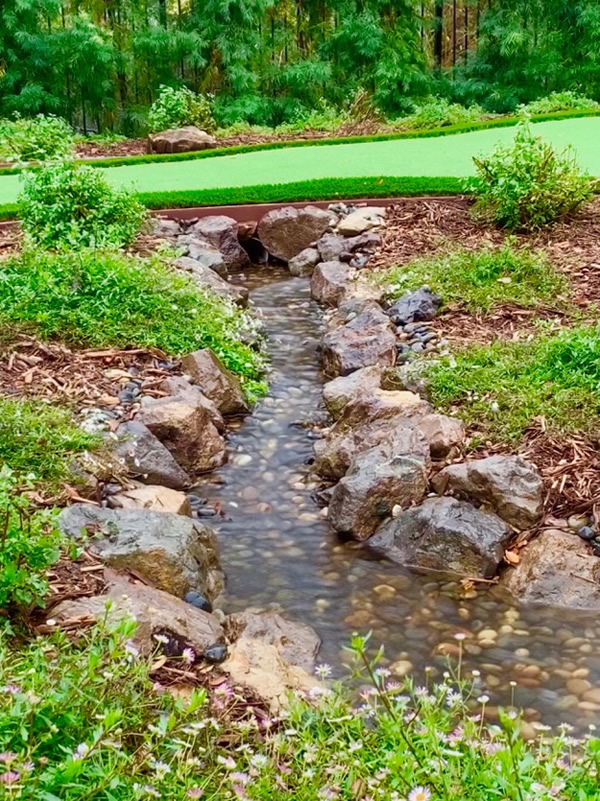 Pathway through the Putting Greens
Our next step was creating pathways that would serve as the connective threads throughout the landscape, ensuring the outdoor space is both functional and beautiful. During gatherings and large parties, these pathways come to life as guests move effortlessly through the landscape. They find themselves crossing the charming wood bridge positioned within the pondless waterfall, where the soothing sounds of cascading water provide an enchanting backdrop to the festivities. Guests revel in the opportunity to interact with the water elements, adding a touch of natural delight to their outdoor experiences.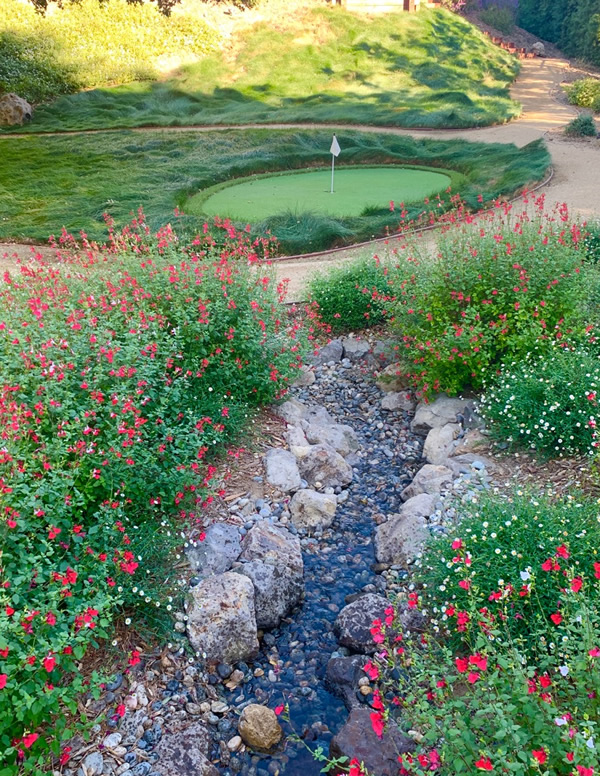 The Completed Landscape Layout
Here, you can get a sneak peek of three out of the four putting greens (with the third one partially visible). We've dedicated approximately 800 square feet to the putting greens, all crafted with the use of artificial turf, resulting in these wonderful golfing areas.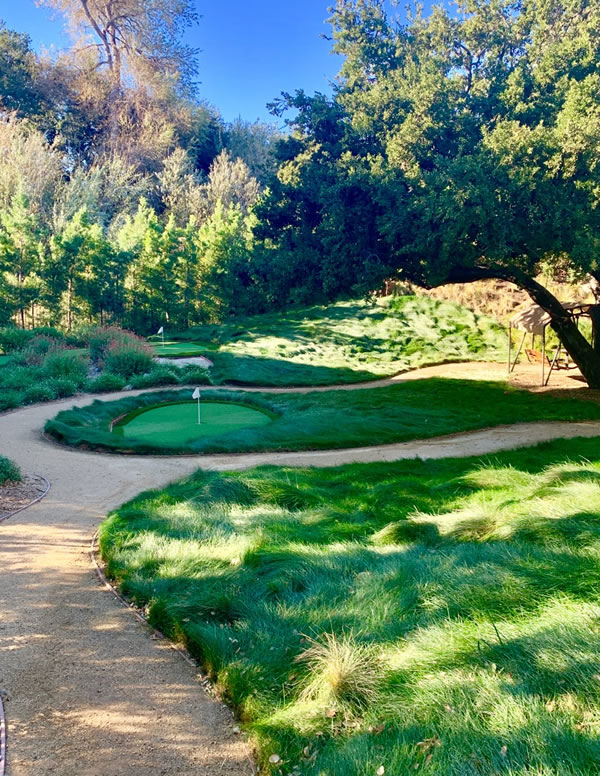 The finished putting green design includes a layout featuring four holes, one sand trap, and a surrounding fringe perimeter.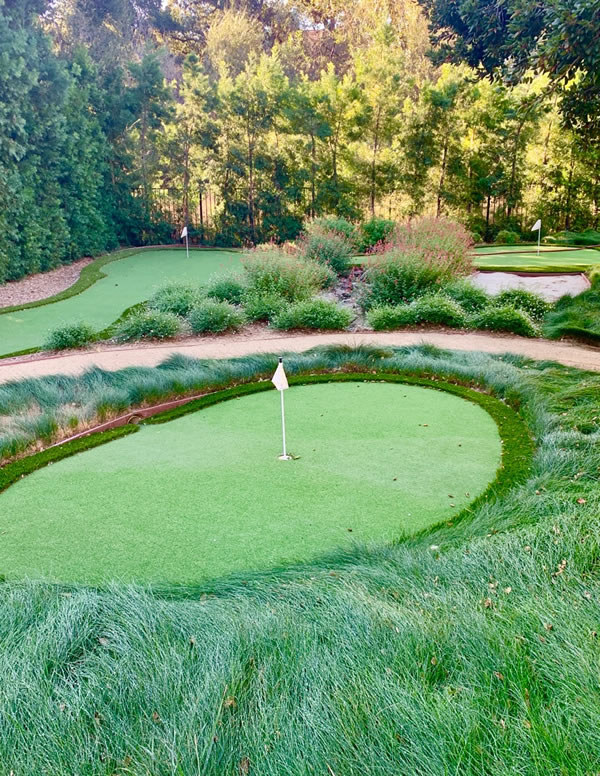 As we wrap up this project, we're thrilled to have successfully transformed our client's backyard into an outdoor haven that seamlessly combines recreation, aesthetics, and natural beauty. The putting greens, water features, and pathways have come together to create a space that caters to his golfing passion, offers relaxation amid the soothing sounds of cascading water, and facilitates easy movement during gatherings. It's been our pleasure to be part of this transformation, and we're excited for our client to enjoy this multifaceted outdoor retreat for years to come.
For more information on our projects, call Mystic Water Gardens at 818-424-6836. If you prefer to drop us a line, please use this Online Form.
Areas We Service in Southern California: