Newsletter: March 2012
The 2012 Pasadena Showcase House of Design
has come to a close. Mystic Water Gardens was thrilled to be a part of it and a big thank you to everyone involved and to all of you that visited our space! If you didn't get the opportunity to come say hi, here is a picture of part of the space! For more pictures, please visit our facebook page and check out the La Lagunita, 2012 Pasadena Showcase House album. http://www.facebook.com/#!/MysticWaterGardens1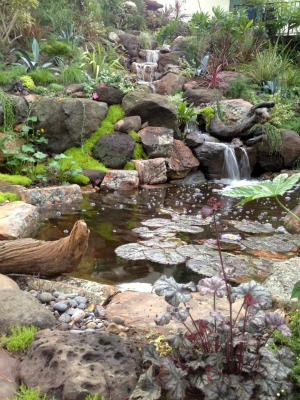 Lilies are in season!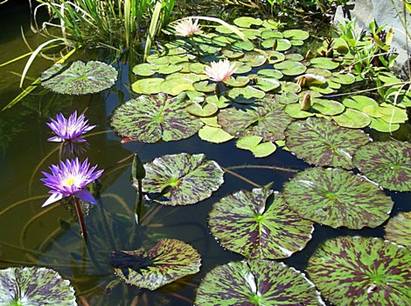 Keep in mind that you should keep your pond covered with approximately 40% - 60% of floating water plants to keep a healthy, well-balanced eco-system for your fish. It's also a great way to help prevent algae build-up. Not to mention, it's such a simple way to liven up your landscaping!
Call Mystic Water Gardens today at 818-424-6836 to schedule us to install your pond water plants. Your pond will thank you!
Show us your pond!
Send us a photo of your pond and be entered to win a free lily! We especially love pictures with wildlife, your family pets, and of course children!
We were so excited to see a Mama duck and her NINE ducklings swimming in the Mystic Water Gardens pond last week! What a treat to be able to provide a sanctuary for them!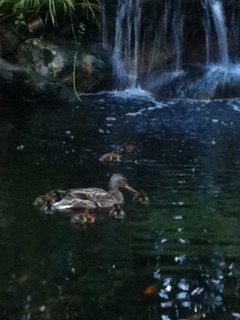 Mystic Water Gardens
Award Winning and Nationally recognized Designer, Steve Sandalis creates one of a kind, handcrafted water features that are 100% eco-friendly.

Sandalis believes that water is the elixir of life. By using custom water features as a basis in many of his landscaping designs, he is able to incorporate the essence and passion that many come to him for. Many of our clients tell us that our water gardens change their lives. Sandalis adds, "Water is an intense attraction to people and satisfies our senses through the sounds that only water can make. Our water features are designed to create a tranquil and comforting environment, providing peace, serenity, and family enjoyment year-round".
ABOUT MYSTIC WATER GARDENS
As seen on Extreme Makeover: Home Edition, Mystic Water Gardens designs, builds, and maintains amazing custom-crafted waterfalls, lakes, ponds and streams. In addition to building award-winning and innovative landscape creations, Mystic Water Gardens water features are designed to be low maintenance and 100% eco-friendly. Located in Southern California, Mystic Water Gardens has designed and constructed custom water gardens, lakes and high end designs for many high profile celebrities.
Steve Sandalis is President & CEO of Mystic Water Gardens. Sandalis' handcrafted work was featured in the September 2011 issue of Architectual Digest. Sandalis was the designer, builder and creative force behind Will and Jada Pinkett Smith's gorgeous lake. He is not only one of the top water feature designers to the stars, he also has created, built and transformed hundreds of his clients homes with his unique water art.

Sandalis has appeared on several television shows including ABC's Extreme Makeover: Home Edition and has shared his passion and creativity on several other TV shows.