Newsletter: February 2013
2013 Pasadena Showcase House of Design Update
Mystic Water Gardens and the 2013 Pasadena Showcase House of Design is on its way!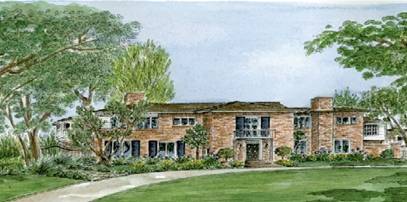 This year the Pasadena Showcase House of Design will be featuring a stunning 1941 Monterey Colonial estate by renowned architect Roland E. Coate, Sr.
It exhibits stylistic features of a number of colonial revival subtypes - a mixture the architect was well known for in his attempt to create a "California Style" residence. Although it does not present the full second story balcony typical of most Monterey Colonials, it has rustic brick walls, a low roof line, and simple casement windows, all of which recall the buildings of early California.
Coate was primarily a residential architect who was very much concerned with the ease and flow of his designs and a sense of serenity, unity and simplicity. This handsome home has a wealth of striking features including a pool and Pool House, and is sited amongst mature trees that add to its tranquil ambiance.
The 2013 Pasadena Showcase House of Design will run from April 21 through May 19, 2013

We would love for you to come experience this slice of paradise!
Tickets to the 2013 Pasadena Showcase House of Design are on sale now and can be purchased online, by phone or by mail order.
Online: www.pasadenashowcase.org
Phone: (714) 442-3872
---
A big thank you to all of our customers who emailed and called to say that you are interested in experiencing this event with us! As a small token of our appreciation, we have added you to the list for complimentary tickets! As soon as they arrive, we will be mailing them off to you! Can't wait to see you there!
Mystic Water Gardens
Nationally recognized and Award Winning Designer creates one of a kind water features that are 100% eco-friendly.
Steve Sandalis is President & CEO of Mystic Water Gardens. Sandalis has been featured in many national magazines, television shows and is now launching a blog and newsletter to share his passion, advice and tips for everyone who loves the green industry. Sandalis believes that water is the elixir of life. By using custom water features as a basis in many of his landscaping designs, he is able to incorporate the essence and passion that many come to him for. Many of our clients tell us that our water gardens change their lives. Sandalis adds, "Water is an intense attraction to people and satisfies our senses through the sounds that only water can make. Our water features are designed to create a tranquil and comforting environment, providing peace, serenity, and family enjoyment year-round".
ABOUT MYSTIC WATER GARDENS
As seen on Extreme Makeover: Home Edition, Mystic Water Gardens designs, builds, and maintains amazing custom-crafted waterfalls, lakes, ponds and streams. In addition to building award-winning and innovative landscape creations, Mystic Water Gardens water features are designed to be low maintenance and 100% eco-friendly. Located in Southern California, Mystic Water Gardens has designed and constructed custom water gardens, lakes and high end designs for many high profile celebrities.