Newsletter: October 2013
Happy October!
Mystic Water Gardens is so pleased!
Architectural Digest is featuring the Los Angeles, California home of Tom Brady and Gisele Bündchen in the October 2013 issue that is on newsstands now!
Why are we so excited? The gorgeous moat and koi pond that Mystic Water Gardens built for the Brady Bündchen family is featured!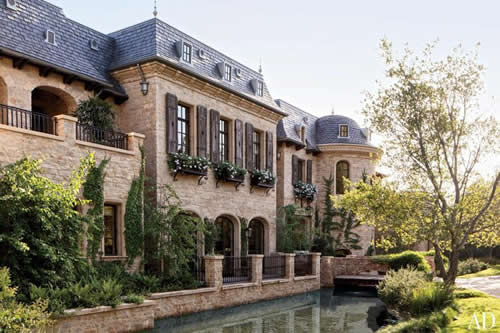 Above is a photo from Architectural Digest of the moat that Mystic Water Gardens built forTom Brady and Gisele Bündchen.
Above is a photo from Architectural Digest of the pond that Mystic Water Gardens built. The water feature is outside the Tom Brady and Gisele Bündchen library.
If you can't get to a newsstand to pick up a copy, don't worry!
We've got a link to the full article right here!
http://www.mysticwatergardens.com/press.htm
DID YOU KNOW?
For those of you that have fish in your water feature, please keep in mind that water holds in heat, and the water temperatures may remain above 60 degrees well into the fall season, especially when some areas are still reaching 90 degrees! This heat will give your fish the opportunity to feed and put on weight. It's important that pond fish eat well now. This way they can build up the stores of energy that will keep them going through the winter season.
As the fall season continues, water temperature will steadily decline, and below 55 degrees your pond fish will be less active. They will also need much less food, and below 40 degrees they shouldn't be fed at all.
WE GIVE THANKS!
We have seen some great customer reviews for Mystic Water Gardens on sites like Houzz, Angie's List, and Yelp from our customers! We appreciate that you have taken the time to put your happiness into words! It gives us great pleasure and we thank you!
---
Mystic Water Gardens
Nationally recognized and Award Winning Designer creates one of a kind water features that are 100% eco-friendly.

Steve Sandalis is President & CEO of Mystic Water Gardens. Sandalis has been featured in many national magazines, television shows and is now launching a blog and newsletter to share his passion, advice and tips for everyone who loves the green industry. Sandalis believes that water is the elixir of life. By using custom water features as a basis in many of his landscaping designs, he is able to incorporate the essence and passion that many come to him for. Many of our clients tell us that our water gardens change their lives. Sandalis adds, "Water is an intense attraction to people and satisfies our senses through the sounds that only water can make. Our water features are designed to create a tranquil and comforting environment, providing peace, serenity, and family enjoyment year-round".

ABOUT MYSTIC WATER GARDENS
As seen on Extreme Makeover: Home Edition, Mystic Water Gardens designs, builds, and maintains amazing custom-crafted waterfalls, lakes, ponds and streams. In addition to building award-winning and innovative landscape creations, Mystic Water Gardens water features are designed to be low maintenance and 100% eco-friendly. Located in Southern California, Mystic Water Gardens has designed and constructed custom water gardens, lakes and high end designs for many high profile celebrities.