Newsletter: April 2015
Mystic Water Gardens 2015 Pasadena Showcase House of Design Garden Tour
Mystic Water Gardens loves being part of one of the oldest, largest and most successful house and garden tours in the nation...The Pasadena Showcase House of Design!
Some people enjoy coming to the Pasadena Showcase House of Design just for the Garden Tours!
As always, our water feature and woodland meadow garden will be on the garden tour!
This year, garden tours are provided at 10:30 am and 1:30 pm daily except for Mondays when the Showcase is closed. (The tour begins at the sign near the entrance of the property)
Did you know that guests can revisit all of the Exterior Design Spaces as well as the Restaurant and Shops at Showcase without a ticket any time that Showcase is open to the public? That means you can come see us anytime without a ticket!
(to tour the interior of the home you must have a ticket!)
Mystic Water Gardens is excited about our Koi pond this year. With the long babbling brook and a 3 foot high boulder waterfall, you are guaranteed to experience tranquility.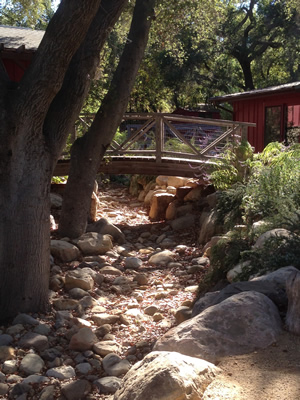 The 51st Pasadena Showcase House of Design will be revisiting a distinguished estate designed by Fernand Parmentier in 1910 that is an eclectic English Tudor combined with Craftsman elements. The artistic innovations and philosophy of the burgeoning Arts and Crafts movement are evident in this striking structure. It features many historical and unique architectural elements including Honduras mahogany beams and moldings, cast plaster ceilings, and distinctive Greuby tile. The main residence is over 9,400 square feet and is complemented by a 2,600 Carriage House with an upstairs apartment. The property includes many mature trees, a pool, a Koi pond, an outdoor kitchen, and a wisteria arbor.

The 2015 Pasadena Showcase House of Design will run from
April 19 through May 17, 2015
Phone: (714) 442-3872