Newsletter: March 2015
2015 Pasadena Showcase House of Design
Mystic Water Gardens is proud to be selected this year as a designer at the 2015 Pasadena Showcase House of Design.
The Pasadena Showcase House of Design is one of the oldest, largest and most successful house and garden tours in the nation! Showcase is open to the public for four weeks during April and May.
Approximately 35,000 visitors tour the property each year and visit the onsite Shops and the Restaurant at the Showcase House. It is always an honor to be chosen to be a part of it!
2015 marks the 6th year that Mystic Water Gardens will be a designer at the prestigious Pasadena Showcase House of Design.

This year Mystic Water Gardens will design a tranquil Koi pond with a 16 foot long babbling brook and a 3 foot high boulder waterfall. The pond will be designed so that it becomes a balanced eco system. Not only will the Koi pond have fish, but it will have aquatic plants including Water Lilies and Iris.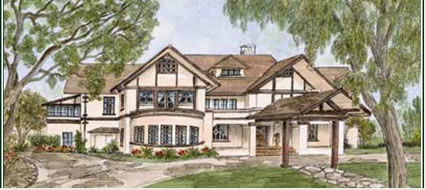 The 51st Pasadena Showcase House of Design will be revisiting a distinguished estate designed by Fernand Parmentier in 1910 that is an eclectic English Tudor combined with Craftsman elements. The artistic innovations and philosophy of the burgeoning Arts and Crafts movement are evident in this striking structure. It features many historical and unique architectural elements including Honduras mahogany beams and moldings, cast plaster ceilings, and distinctive Greuby tile. The main residence is over 9,400 square feet and is complemented by a 2,600 Carriage House with an upstairs apartment. The property includes many mature trees, a pool, a Koi pond, an outdoor kitchen, and a wisteria arbor.

The 2015 Pasadena Showcase House of Design will run from
April 19 through May 17, 2015
Phone: (714) 442-3872
Good to know: Guests can revisit the Exterior Design Spaces as well as the Restaurant and Shops at Showcase without a ticket any time that Showcase is open to the public.