Mystic Water Gardens —
Pondless Waterfalls
Newsletter: October 2016
When clients ask, "What is a Pondless Waterfall?" ... we answer quite simply, a pondless waterfall is a waterfall and stream, without the pond! For those that still want to experience and enjoy the sights and sounds of running water without worrying about the maintenance of a pond, a pondless waterfall might just be a perfect option for you!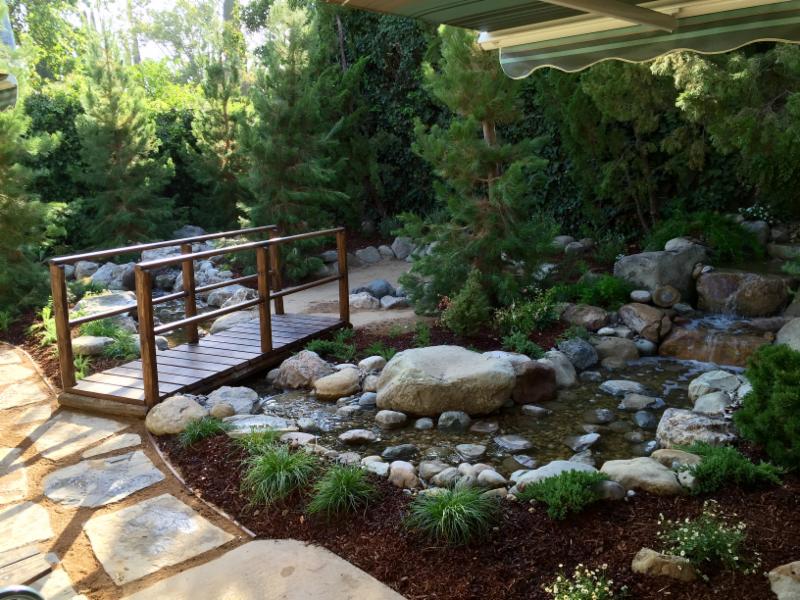 Disappearing Waterfall
Sometimes called a disappearing waterfall, the pondless is one of the easiest waterscapes to manage and maintain. You don't have to worry about frequent cleaning or filter replacement. There is no open body of water, so if you have any young children or grandchildren running around the backyard, this type of feature is a great choice.
Anybody visiting you and your beautiful yard can enjoy your waterfall!
Check out a few more of our recent Pondless Waterfalls here!
Mystic Water Gardens
Nationally recognized and Award Winning Designer creates one of a kind water features that are 100% eco-friendly.
Steve Sandalis is President & CEO of Mystic Water Gardens. Sandalis has been featured in many national magazines, television shows and is now launching a blog and newsletter to share his passion, advice and tips for everyone who loves the green industry. Sandalis believes that water is the elixir of life. By using custom water features as a basis in many of his landscaping designs, he is able to incorporate the essence and passion that many come to him for. Many of our clients tell us that our water gardens change their lives. Sandalis adds, "Water is an intense attraction to people and satisfies our senses through the sounds that only water can make. Our water features are designed to create a tranquil and comforting environment, providing peace, serenity, and family enjoyment year-round".
ABOUT MYSTIC WATER GARDENS
As seen on Extreme Makeover: Home Edition, Mystic Water Gardens designs, builds, and maintains amazing custom-crafted waterfalls, lakes, ponds and streams. In addition to building award-winning and innovative landscape creations, Mystic Water Gardens water features are designed to be low maintenance and 100% eco-friendly. Located in Southern California, Mystic Water Gardens has designed and constructed custom water gardens, lakes and high end designs for many high profile celebrities.

Serving Los Angeles, Calabasas, Malibu, Pacific Palisades, Hidden Hills, Studio City, Chatsworth, Sherman Oaks, Thousand Oaks, Agoura Hills, Porter Ranch, Brentwood-LA, Rancho Palos Verdes, Encino, Tarzana, Pasadena, La Cañada Flintridge, Alta Dena, San Marino, Beverly Hills, Santa Monica, Camarillo, Burbank, Culver City