Best Time for Pond Cleaning
Newsletter: March 2017
Spring Cleaning for your Pond
—Mystic Water Gardens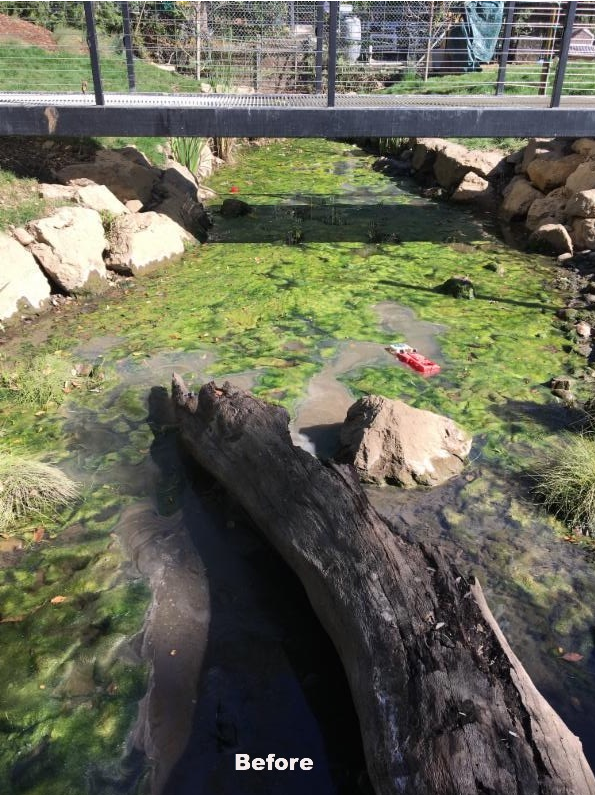 Spring is just around the corner!
Did you know that the best time to perform a pond cleaning is in early spring, before your water feature "awakens" from its winter dormancy? Clean-outs can be essential for the health of your Koi and pond! How do you know if your water feature needs a full cleaning? One easy way to know is if there is a layer or build up of sediment at the bottom of the pond and the water is murky or the color is dark!
Proper Pond Care
Proper pond care includes knowing when to clean the pond. If pond cleaning is performed when the water is warmer, bacteria colonies could form and the balance of the ecosystem might become, well, out of balance. This means that your pond could go through another "green phase" before the bacteria colonies re-establish themselves again.
If a clean out sounds like something your pond needs, you can plan on the caring Mystic crew spending anywhere from a half day to a full day to perform a complete pond cleaning.
Give us a call to schedule a free estimate! 
(818) 424-6836
Mystic Water Gardens
Nationally recognized and Award Winning Designer creates one of a kind water features that are 100% eco-friendly.
Steve Sandalis is President & CEO of Mystic Water Gardens. Sandalis has been featured in many national magazines, television shows and is now launching a blog and newsletter to share his passion, advice and tips for everyone who loves the green industry. Sandalis believes that water is the elixir of life. By using custom water features as a basis in many of his landscaping designs, he is able to incorporate the essence and passion that many come to him for. Many of our clients tell us that our water gardens change their lives. Sandalis adds, "Water is an intense attraction to people and satisfies our senses through the sounds that only water can make. Our water features are designed to create a tranquil and comforting environment, providing peace, serenity, and family enjoyment year-round".
ABOUT MYSTIC WATER GARDENS
As seen on Extreme Makeover: Home Edition, Mystic Water Gardens designs, builds, and maintains amazing custom-crafted waterfalls, lakes, ponds and streams. In addition to building award-winning and innovative landscape creations, Mystic Water Gardens water features are designed to be low maintenance and 100% eco-friendly. Located in Southern California, Mystic Water Gardens has designed and constructed custom water gardens, lakes and high end designs for many high profile celebrities.
Serving Los Angeles, Calabasas, Malibu, Pacific Palisades, Hidden Hills, Studio City, Chatsworth, Sherman Oaks, Thousand Oaks, Agoura Hills, Porter Ranch, Brentwood-LA, Rancho Palos Verdes, Encino, Tarzana, Pasadena, La Cañada Flintridge, Alta Dena, San Marino, Beverly Hills, Santa Monica, Camarillo, Burbank, Culver City
CALL NOW FOR A FREE ESTIMATE! CALL (818) 424-6836.