Mystic Water Gardens —
Backyard Designs
Newsletter: August 2016
Patio Designs
Whether your dream is to have your backyard designed for entertaining a crowd or just relaxing with a good book, Mystic Water Gardens can turn your dreams into a reality. For our outdoor room designs, we love combining the four elements together; fire, air, earth, and water!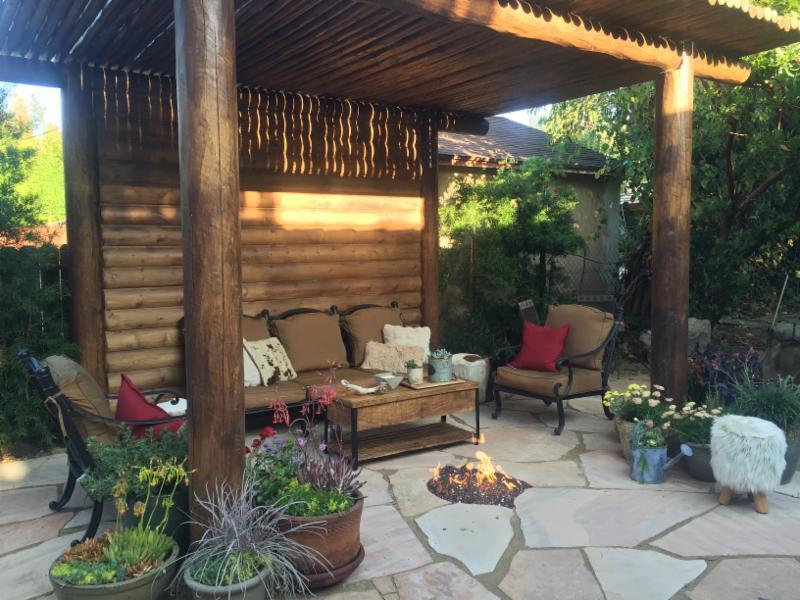 Perfect for entertaining, this redesigned patio includes a rustic gazebo, creating the perfect outdoor room. The earth toned flagstone pavers complement the gazebo's wood tones. Adding a small fire pit makes it easy to cozy up to on a cool evening.
You don't need a big backyard to have a breathtaking patio. Mystic Water Gardens turned a simple space into a gorgeous outdoor living area. You can easily turn your yard into your dream oasis!
Mystic Water Gardens Drought Tolerant Grass
At Mystic, we understand that a typical turf lawn requires frequent mowing and a lot of water to keep it green, lush and healthy.
Did you know that you can dramatically reduce your maintenance costs if you opt for a "no mow" lawn? This Native No Mow grass can be installed on any type of property, and you never have to mow it!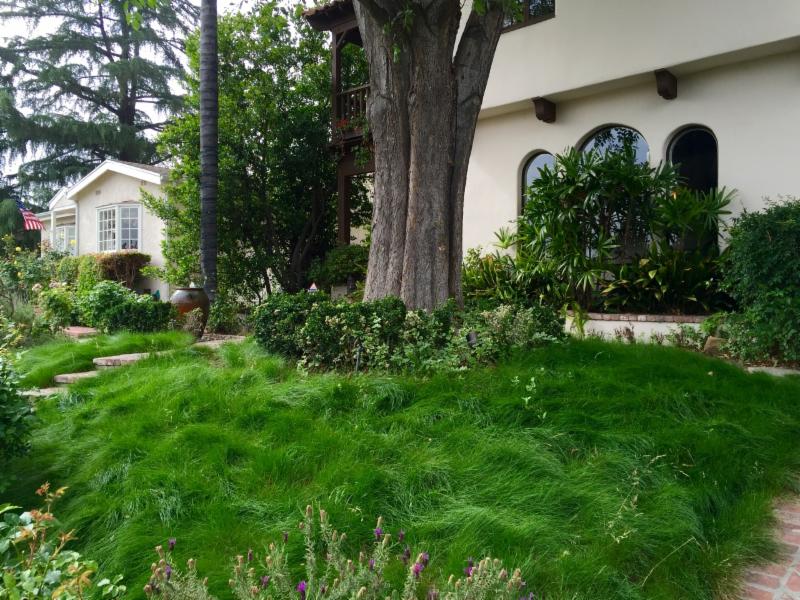 You only need a string trimmer or weed eater to cut the grass to your desired height, which can be done once or twice a year!
Since this is a drought tolerant lawn, you can save up to 75% on your water consumption.
We look forward to the opportunity to help transform your landscape!
Give us a call to schedule a free estimate! 
(818) 424-6836
Mystic Water Gardens
Nationally recognized and Award Winning Designer creates one of a kind water features that are 100% eco-friendly.
Steve Sandalis is President & CEO of Mystic Water Gardens. Sandalis has been featured in many national magazines, television shows and is now launching a blog and newsletter to share his passion, advice and tips for everyone who loves the green industry. Sandalis believes that water is the elixir of life. By using custom water features as a basis in many of his landscaping designs, he is able to incorporate the essence and passion that many come to him for. Many of our clients tell us that our water gardens change their lives. Sandalis adds, "Water is an intense attraction to people and satisfies our senses through the sounds that only water can make. Our water features are designed to create a tranquil and comforting environment, providing peace, serenity, and family enjoyment year-round".
ABOUT MYSTIC WATER GARDENS
As seen on Extreme Makeover: Home Edition, Mystic Water Gardens designs, builds, and maintains amazing custom-crafted waterfalls, lakes, ponds and streams. In addition to building award-winning and innovative landscape creations, Mystic Water Gardens water features are designed to be low maintenance and 100% eco-friendly. Located in Southern California, Mystic Water Gardens has designed and constructed custom water gardens, lakes and high end designs for many high profile celebrities.
Serving Los Angeles, Calabasas, Malibu, Pacific Palisades, Hidden Hills, Studio City, Chatsworth, Sherman Oaks, Thousand Oaks, Agoura Hills, Porter Ranch, Brentwood-LA, Rancho Palos Verdes, Encino, Tarzana, Pasadena, La Cañada Flintridge, Alta Dena, San Marino, Beverly Hills, Santa Monica, Camarillo, Burbank, Culver City