Pond and Waterfall - Makeover in Thousand Oaks
The homeowners, in Thousand Oaks, CA, called Mystic Water Gardens because they wanted to redo their existing Koi pond and waterfall. They had already given away their fish and had drained the feature, and they were ready for a refurbish! They were looking for something much more aesthetic, efficient and that would solve the issues they were having with the previous setup.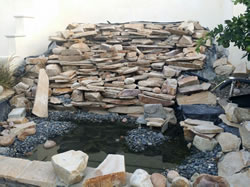 Here you can see the existing pond and waterfall setup before the refurbish project began. Basically everything had to be removed and redone.
Serving Los Angeles, Calabasas, Malibu, Pacific Palisades, Hidden Hills, Studio City, Chatsworth, Sherman Oaks, Thousand Oaks, Agoura Hills, Porter Ranch, Brentwood-LA, Rancho Palos Verdes, Encino, Tarzana, Pasadena, La Cañada Flintridge, Alta Dena, San Marino, Beverly Hills, Santa Monica, Camarillo, Burbank, Culver City
CALL NOW FOR A FREE ESTIMATE!
CALL (818) 424-6836.
Aesthetic Design for the New Pond and Waterfall
After speaking with the clients and reviewing what they were looking for we offered a hand drawn rendering of the design. The homeowners loved the design and we began the project.
Disappearing Koi Fish
They had had problems with wild birds and other wild creatures attacking the fish. We suggested we could create some safe places for the fish, and they liked the idea.So we built some fish caves into the rocks to protect the fish from critters getting to them!
CALL NOW FOR A FREE ESTIMATE! (818) 424-6836.
Landscaping Rocks for a Natural Look
Considering the aesthetics they were looking for, we settled on the pond being approximately 10 feet x 14 feet and about 3 ½ feet deep. They wanted the surrounding landscape to look natural as well as aesthetic. Using actual rocks gave it a very realistic look and feel, as if it were found in nature. There are many rock types to choose from. We chose rock for this project to match the existing hardscape. The type of rock we chose is earth toned in color and angular, which reflects the surrounding landscape of Thousand Oaks. The end result was a totally natural looking koi pond and waterfall that blended perfectly into the landscape.
Submersible LED Lights to Light the Pond and Waterfall at Night
Our client loves to spend evenings near the pond so the answer was LED Lighting. We used submersible LED lights in the waterfall and in the pond to create a gorgeous effect in the evening hours. LED bulbs are also extremely energy efficient and long lasting. The clients loved how the lighting created an inviting environment at night for them to enjoy the pond, waterfall and their fish.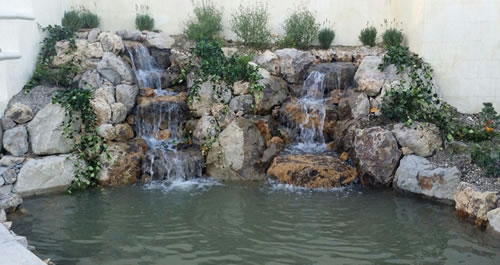 CALL US NOW: (818) 424-6836.