Ponds—Before & After
San Gabriel Landscaping
The property is located at the foothills of the San Gabriel Mountains. Homeowner wanted to create a rustic feel to the garden to tie in the beautiful mountain surroundings: (Click on any image to enlarge)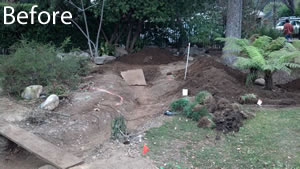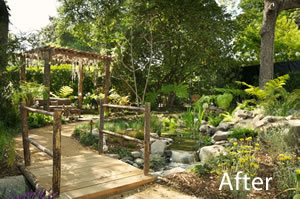 CALL NOW FOR A FREE ESTIMATE! CALL (818) 424-6836.
We service Los Angeles, Calabasas, Thousand Oaks, Malibu, Studio City, Sherman Oaks, Pasadena, Encino, Beverly Hills, Culver City and neighboring cities in LA area.
Woodland Hills Pond
A large lake was created as the centerpiece of the large property. The recreational lake is used for boating, swimming and fishing. An island was created in the middle of the lake with a meditation hut for the client to get away and have a 'staycation':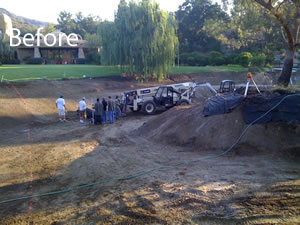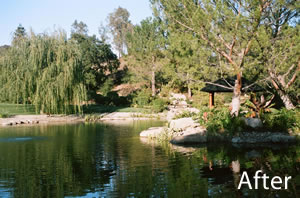 Lake & Gazebo in Malibu
An unused field was turned in to an oasis with the addition of a small lake and gazebo designed and built by Mystic Water Gardens. The once vacant field is now the center for events like weddings and parties!: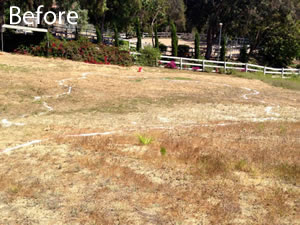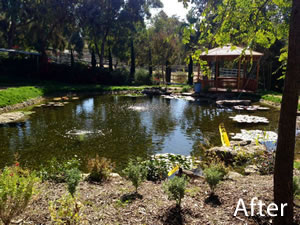 Koi Pond in Sherman Oaks
The big unused swimming pool was removed to create more space in the yard for the homeowners. The soil that was dug from the newly installed koi pond was used to fill in the pool. The new layout of the yard created a lot more space for the homeowner! They love to have backyard parties and entertain quite a bit!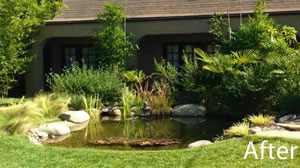 Pondless Waterfall in Burbank
This project was a 1-day makeover. An unused fountain was replaced with a pondless waterfall designed and built by Mystic Water Gardens. The entire job was completed in 1 day. The water feature was created as a surprise for the homeowner's wife: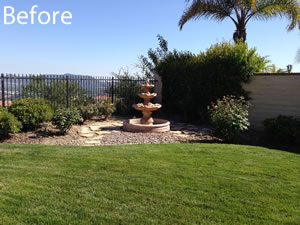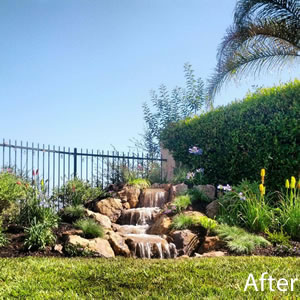 Koi Pond in Thousand Oaks
Homeowner wanted to create an Italian Villa with flowing water and Mediterranean landscaping. The stocked koi pond fits perfectly between the driveway and their entryway: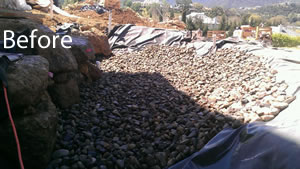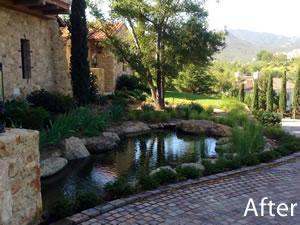 Outdoor Living Area in Encino
Homeowner's enjoyed traveling to Mexico and wanted to bring a resort feel to the yard where they could unwind after work and enjoy the indoor / outdoor living of Southern California. The entire patio was demolished. Flagstone patio with decomposed granite was installed, fire pit, gazebo, outdoor lighting, landscaping: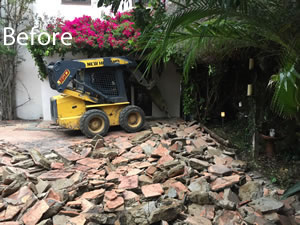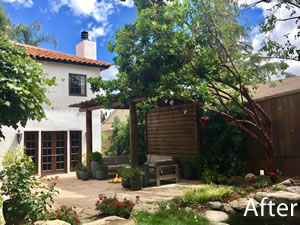 Burbank Hillside Waterfall
A barren hillside was turned in to a lush hillside with a flowing waterfall and beautiful trees in Burbank, California:
TO GET OUR COMPREHENSIVE POND MAINTENANCE PACKAGE: CALL (818) 424-6836.