Ponds and Water Features
Ponds and water features are great additions to your landscaping. They can become focal spots in your outdoors and enhance the aesthetic appeal of your property. These features are also effective in creating a relaxing outdoor ambiance. If you want to experience all these benefits, you need to get the services of professional pond and water feature builders like us at Mystic Water Gardens. Our company has decades of experience in designing and installing various water features for California clients.
Serving Los Angeles, Calabasas, Malibu, Pacific Palisades, Hidden Hills, Studio City, Chatsworth, Sherman Oaks, Thousand Oaks, Agoura Hills, Porter Ranch, Brentwood-LA, Rancho Palos Verdes, Encino, Tarzana, Pasadena, La Cañada Flintridge, Alta Dena, San Marino, Beverly Hills, Santa Monica, Camarillo, Burbank, Culver City
CALL NOW FOR A FREE ESTIMATE! CALL (818) 424-6836.
Ponds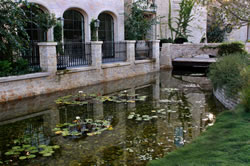 A waterscaping project will not be complete without installing ponds in strategic areas in the landscape. These water features are also popular because of their design flexibility and the aesthetic benefit that they can provide. You have the freedom to choose the shape, size, or type of pond that will suit your outdoor space. You can also add other water features to make them more interesting and eye-catching. Some of our recommended add-ons include waterfalls, fountains, artificial streams, and aquatic plants.
The #1 Certified Aquascape Contractor in the Country
Creating ponds and water features is a technical job that requires proper training and certification. Doing the task in a DIY manner may result in poorly installed water amenities. Your best option is to just let a professional contractor work on the project. At Mystic Water Gardens, we have people who are certified and well-experienced in waterscaping. You'll not regret hiring us since we are the #1 Certified Aquascape Contractor in the country.
Water Features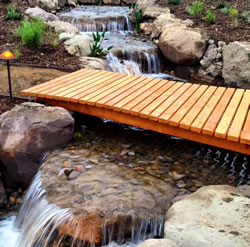 Choosing the right water features for your property can be a daunting task. You have to consider the design, function, and aesthetic effects of each water feature to achieve your desired outdoor setup. Careful selection of the area where the specific feature will be installed is also a must. If you hire expert people, you will be assured that all these factors will be considered in the design process. They will help you choose the perfect water feature that will transform your dull outdoors into a relaxing oasis.
Water Gardens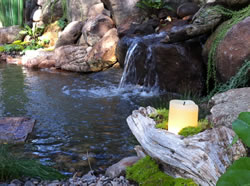 Your landscape will become more attractive if it has beautifully designed water gardens. This type of water feature will create a nature-like environment, which is favorable for aquatic plants and fishes. An ecosystem is created when fishes and different types of aquatic plants are added in the water garden. It can also become the focal area in the landscape if the contractor has extensive experience in designing and creating ponds and water features. And here at Mystic Water Gardens, this is one of our specialties. Our water garden design team is Aquascape certified and equipped with the latest tools and equipment. We also have access to premium materials such as liners, pumps, skimmers, and other filtration equipment. These capabilities help us complete a simple water feature project in one day.
Koi Pond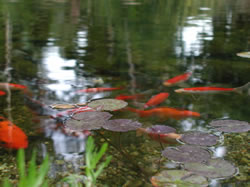 A pond with beautiful Koi fishes can become the most visited spot in your landscape. But installing one requires in-depth knowledge of the needs of Koi fishes and the pond's installation requirements. For example, a typical Koi pond should have a depth of 3-4 ft. and must have an effective filtration system for the fishes to thrive and survive. It is also important to select the aquatic plants that are suited for this type of pond. The amenities around the area will also help improve its aesthetics. Some great add-ons include seating areas, garden paths leading to the pond, bridges, and little islands.
Garden Ponds
Garden ponds are not only built to improve the aesthetics of your property but also attract wildlife creatures in your landscape. A carefully designed garden pond will result in a healthy flora and fauna. This means you don't have to worry about costly maintenance. It will also offer a unique charm since each element will be placed on its perfect spot. Moreover, the beauty of your pond can be highlighted with the use of outdoor lighting, natural stones, and other water features.
Pond Design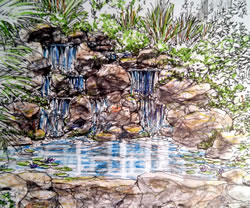 The great thing about ponds and water features is that they can be custom designed. The design can be based on your available space, location, preferences, existing features, and budget. If you want them to be the most beautiful features in your landscape, you need the help of expert pond designers like us. We are certified aquatic contractors, so we know the right pond design that will suit your needs and requirements. From small garden ponds to elaborate ponds with waterfalls, we can design them for you.  
Backyard pond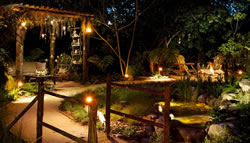 There are a lot of factors that you must consider when building a backyard pond. The pond should be easy to maintain, installed in its proper location, made from the finest materials, and designed by pond experts. With us, you will not worry about the pond's maintenance cost since we know how to create ponds with working ecosystems. This means that the flora and fauna will thrive well with minimal maintenance effort.
Small Pond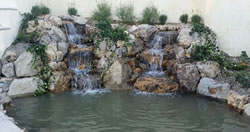 A small pond is best installed in a landscape with limited space. You can have a garden, koi, or rock pond, depending on your preferences. Other water features that can be included in the design of small ponds are waterfalls and fountains. Small ponds are also effective in highlighting the beauty of certain areas in your landscape.
Turtle Ponds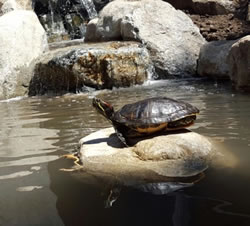 If you are a turtle enthusiast, you have to consider installing turtle ponds in your outdoors. But make sure that the design and installation tasks are handled by experts like us at Mystic Water Gardens. We do the installation systematically and scientifically to create the perfect habitat for your turtles. Our ponds are designed to protect your turtles from predators, provide adequate sun and shade, and ensure the quality of pond water.
Pond Waterfall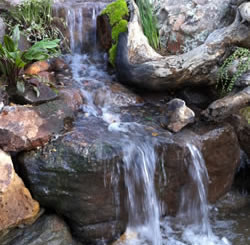 The trickling water from a waterfall is a relaxing scene to look at. This type of water feature is also an effective stress reliever since it can calm your senses. Aside from these benefits, a pond waterfall will make your outdoor area a more interesting spot since the sound and sight of water will attract people. Moreover, this feature can be transformed into a nature-like environment by adding aquatic plants and fishes. It will also attract birds and other wildlife creatures. 
Pondless Waterfall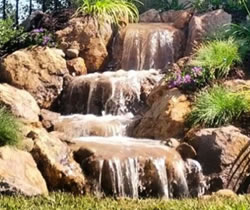 A pondless waterfall is a safer and cost-effective alternative to traditional ponds with waterfalls. With this type, you can allow your kids and pets to play around the water feature since there is no pool of water that can cause accidents. The water requirement is also reduced, which then results in great savings over time. At Mystic Water Gardens, we have already installed countless pondless waterfalls for California clients, so we can also design a custom waterfall for your property.
Pond Plants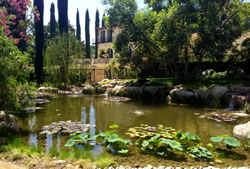 We will make your ponds look more natural by adding carefully selected aquatic plants. You will surely love our recommended pond plants for their attractive colors and diversity. Your options include peach glow lily, yellow Irish, lizard tail, dwarf cattail, horsetail rush, bluebell, sagittaria, Panama Pacific lily, red endeavor canna, water hyacinth, Rembrandt lily, and many others.   
Pond Fountains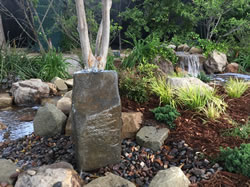 Pond fountains are great add-ons to your ponds because of their aesthetic benefits. We can install fountains with different spray head patterns and lighting to give you an awesome visual display right in your backyard. Your aquatic plants and fishes will also benefit from your pond fountain because of improved water circulation and better aeration. Moreover, the fountains that we install are heavy-duty, long-lasting, and low-maintenance.
Call Mystic Water Gardens now to get free cost estimates for your custom designed ponds and water features
CALL US NOW: (818) 424-6836.