Press
Water Garden Designs Inspired by Travel with Steve Sandalis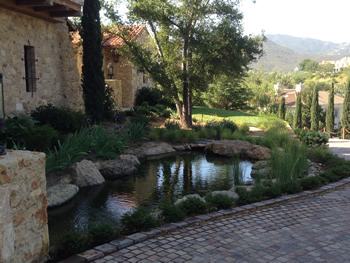 Before meeting Steve Sandalis, owner of Mystic Water Gardens, I actually met his wife, Katy, from complimenting her wildly admirable shoes at an event one night. She could not stop raving about her husband Steve and took me to meet him just down the hall from where we conversed. What I did not realize was that I was about to meet someone who is so in tune with nature, he literally recreates it for a living.
Steve is a Certified Aquascape Contractor and through his company, Mystic Water Gardens, he brings tranquility, relaxation and escape to his client's homes through custom-crafted water features. Just by viewing his portfolio, it is clear that when Steve is in an outdoor setting, he understands what it means to absorb his surroundings fully. In fact, most of his inspiration comes from traveling! From being as a local as visiting The Huntington Library's Chinese gardens in San Marino, to traveling as far as Italy, Steve masterfully utilizes his travel experience to enhance his client's lifestyle through exterior designing.
Click through to see a few waterscape designs from his portfolio including travel photos reminiscent of his work and more.