Press
Showcase House is More Than Just a Pretty Place
May 6th, 2016, Pasadena Independent

By Susan Motander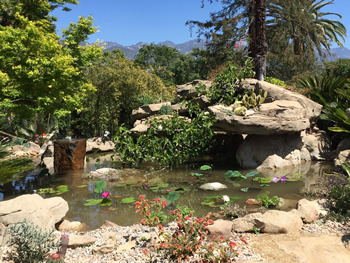 Sometimes when focusing on the delightful design ideas at the Pasadena Showcase House for the Arts (PSHA) it is easy to forget that the purpose behind opening a local home for remodeling is to raise funds for art programs throughout the Los Angeles Area, as well as providing scholarships to instrumental music students. The funds raised also fund the PSHA Music Mobile that introduces young students to music through hands-on experience. Young people are also exposed to classical music through the annual concert for fourth graders at the Walt Disney Concert Hall.
Earlier this week, the group held a formal presentation ceremony at the Showcase House for the recipients of this year's grants. Those receiving grants included: Alhambra Education Foundation (K through eight "Music and More" program); the Arcadia Music Club (Instruction Specialist); Marshall Fundamental School (Production of "Beauty and the Beast"); Pasadena City College Foundation (Costumes for the Opera Production); Temple City Schools Foundation (The Spring Musical); and Washington's STEAM Magnet Academy Glee Club (Spring Musical).
In all, 49 grants were awarded from the proceeds of last year's Showcase House. It is not too late to become a part of this program by attending the Showcase House and supporting the music programs it sponsors. The house will be open Tuesday through Sunday, until May 15. Tickets are available online at their website: www.pasadenashowcase.org.
Photo Caption: This very pretty pond at the Pasadena Showcase House of Design for the Arts was refurbished by Steve Sandalis of Mystic Water Gardens and is surrounded by a lovely dry garden by Kane Miller of Sacred Space Garden Design. – Photo by Susan Motander