Turtle Pond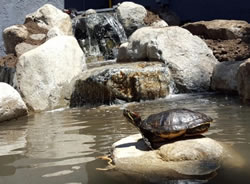 Turtle ponds are the perfect way to enjoy the wonderful personality that only turtles can bring. Mystic Water Gardens has been designing and building more and more turtle ponds for our clients that rescue and raise turtles, allowing them to still enjoy the beauty of a pond and to create a natural environment for these semi-aquatic reptiles.
Turtle Habitat
It is important to understand the difference between a turtle pond and a garden pond or koi fish pond. Turtles have different needs than Koi fish do. They tend to like to stray so it is a good idea to have tall sides on the pond to keep them safe. They really enjoy deep areas to swim around. One thing to know is that they spend a significant time out of the water because they love to bask in the sun. You might even see them stacked up on top of each other!
Begin to enjoy TODAY all of the beauty, nature and tranquility that Turtle Ponds have to offer.
CALL (818) 424-6836 for free consultation.
Serving Los Angeles, Calabasas, Thousand Oaks, Malibu, Studio City, Sherman Oaks, Pasadena, Encino, Beverly Hills, Culver City and neighboring cities in LA area.
Red-Eared Slider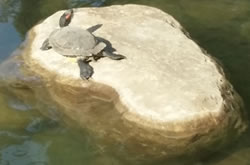 With the slightest movement or sound, Red-Eared Sliders have been known to slide right off their basking rocks or logs and right back into the water! The fact that they do this, combined with the red earmark on both sides of their heads, gives them their common name.


Special Ponds for Turtles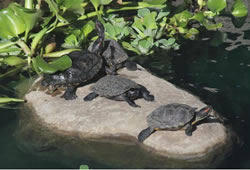 We want to make it easy for them to climb out of the pond, so Mystic Water Gardens designs these ponds with driftwood, logs and flat rocks coming out of the water. This will allow the turtles to feel right at home. It is important for them to dry out their shells so they stay healthy. A primary place to bask in the sun is a major requirement in every turtle pond. On the other hand, during the hotter months, they must have an area of shade to get out of the sun.
Breeding Turtles
If you would like your turtles to breed you will need to have a sandy shallow area for them to lay their eggs.
Turtle Facts
Did you know that turtles have claws? They use them to dig, eat, breed, swim, climb and even flirt!
Turtles are exposed to many predators, so a hideaway in the rocks can help keep them safe from harm.

Whether you are a turtle enthusiast and have a dream to raise turtles, or you are a new turtle owner, the Mystic team can design and build a turtle pond that is unique and one of a kind.
CALL (818) 424-6836 for free consultation.