Best Aquascape Contractor in Southern California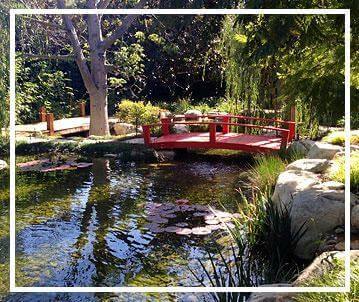 Mystic Water Gardens designs, builds, and maintains water features that include custom-crafted waterfalls, ponds, koi ponds, pondless waterfalls, lakes and streams. These self-sustaining aquascapes combine low maintenance with high enjoyment, while adding considerably to the value of your home or property. Share with your family, friends, employees and colleagues all of the benefits and joys that water features have to offer!

Imagine crafting your own backyard eco-system and relishing the calming sounds of nature while you unwind in your personal tranquil space. Mystic can help you create a long-lasting water feature for your enjoyment. Make lasting memories as you appreciate the beauty and benefits of the natural world, all right in your own yard or workplace. Paradise is closer than you think!
Highest Quality Water Features Design and Build
We are serving customers in Westlake, Calabasas, Los Angeles, Encino, Tarzana, Studio City, Pasadena, La Canada, Northridge, and other areas of CA.

We take great pride in our projects and our clients regularly call us to say how much pleasure they derive out of our creations. We're proud that we are the #1 Certified Aquascape Contractor in the country. Whether you have a small spot for a compact pond or a pondless waterfall, or you're in need of a larger stream or lake, Mystic can handle it all. The best part? Most projects are finished in just one day! Begin your journey to relaxation and start enjoying the beauty and benefits of your customized water feature today.
Each and every project is meticulously customized to seamlessly integrate our client's specific needs, unique lifestyles, discerning design preferences, and budgetary considerations, resulting in the creation of an absolutely perfect water feature. We take pride in offering solid warranties, and our commitment to delivering on our promises is unwavering. Don't hesitate to reach out today for an informative discussion on the value of water features and to obtain a detailed estimate for your project. We'd love to hear from you, so if you have something you would like to discuss, please fill out this form and we'll get right back to you. Thanks for your interest in Mystic Water Gardens and welcome to the beautiful and relaxing world of water gardens!
Respectfully,
Steve Sandalis, Owner and Certified Aquascape Contractor
Areas We Service in Southern California: