Water Features Set the Mood
Take a tour with Greg Whittstock "The Pond Guy" and Steve Sandalis, Mystic Water Gardens, one of the greatest Water Features Artists in the West!
Here is the first part of the video:

The Most Amazing Pond Waterfall
The homeowner didn't want to use pondliner so we had to pour concrete for the 3000 gallon basin.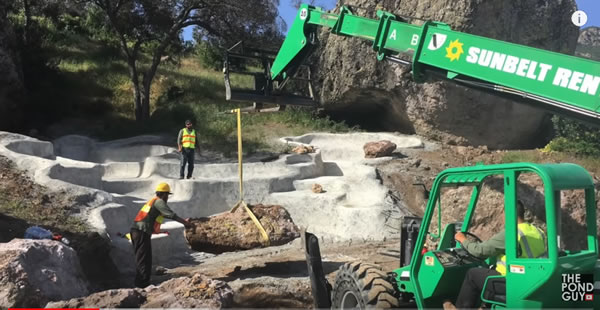 The the Foundation for the Stream was added on top of the base.
Serving Los Angeles, Calabasas, Malibu, Pacific Palisades, Hidden Hills, Studio City, Chatsworth, Sherman Oaks, Thousand Oaks, Agoura Hills, Porter Ranch, Brentwood-LA, Rancho Palos Verdes, Encino, Tarzana, Pasadena, La Cañada Flintridge, Alta Dena, San Marino, Beverly Hills, Santa Monica, Camarillo, Burbank, Culver City
Getting ready with the larger boulders... The largest boulder was 24 tons!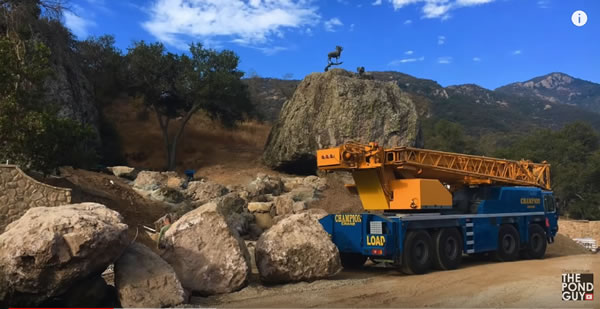 Get Ready for the Most Amazing Water Features...
Here is the second part of the video:

BIG Waterfalls and Pond and Stream!
Here is the last part of the video:

Contact the Award Winning Mystic Water Gardens for your Water Features, Pond or Waterfall Wishes!
Serving customers in Agoura Hills, Alta Dena, Brentwood, Burbank, Camarillo, Chatsworth, Encino, Hidden Hills, La Canada, Porter Ranch, Rancho Palos Verdes, San Marino and Tarzana.
CALL NOW FOR A FREE ESTIMATE! CALL (818) 424-6836.